(Thursday, June 6)
While Kyle had a full day "
stage
" at Kikunoi today, I had a special private cooking class at a traditional Kyoto kaiseki restaurant.
Harise
in Gojo District was established in 1659 during early Edo Period. Now the restaurant is run by 12th generation owner chef, Morimoto-san.
I thought I was going to have to put on an apron and start cooking as soon as I arrived. But instead, I was taken to a private room for a full kaiseki course meal to enjoy before the cooking class!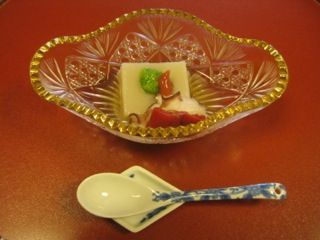 First courses were all very classic Kyoto-style dishes, including poached hamo (pike eel) and sashimi, etc.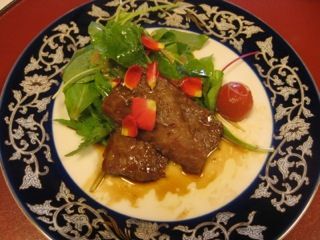 Then, there were also dishes with some Western essence. Foie gras and avocado egg custard, and steak with black vinegar sauce.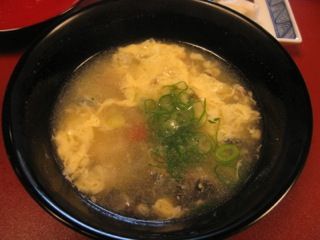 Back to very classic Kyoto dishes...Kamo-nasu (Kyoto's traditional eggplant) light stew was followed by grilled ayu fish. Ayu was so fresh, and I enjoyed from head to tail in such a short time. The final savory course was "suppon zosui" (soft shell turtle porridge). There were generous chunks of suppon in the soup. So flavorful.
Desserts. After the fruits, I had cold "kuzu manju" (dumpling of arrow root dough, filled with sweet azuki bean paste), and "usu-cha" (whisked hot matcha drink).
Wonderful lunch!
I could've totally just taken a nap after such a luxurious meal, but with a little rest the cooking class has began in a room next door.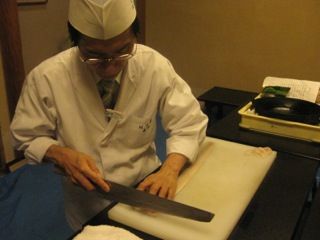 The first thing I learned was hamo (pike eel)! It's Kyoto's very seasonal delicacy. The 12th generation chef owner, Morimoto-san, first showed me how to clean the hamo (pike eel) fish. He said the fish was alive just 10 minutes ago, so it was extremely fresh.
Hamo is known for many, many tiny bones. Therefore, you need to do "hone-kiri", which is to slice the bones by making tiny incisions (at about only 1 mm apart intervals!). It was such a delicate and tedious work, but I really enjoyed and learned so much. As soon as I finished "hone-kiri", the fish was cut into smaller pieces and poached for 10 seconds. My first poached hamo fish tasted so wonderful!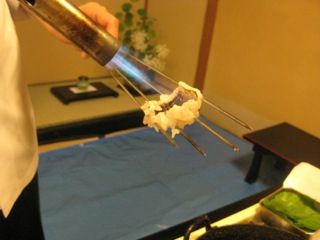 The next technique was to skewer hamo (after "hone-nuki") and broil it. After the chef showed me how, I did the whole process myself. It came out really nice!
The vegetable course was Kyoto's traditional Kamo nasu (eggplant). They were so round and firm. He showed me how to make traditional stuffed "dengaku" (miso flavored) Kamo nasu. I did it myself after his demonstration. Because this particular eggplant is so firm, the process of slicing the eggplant meat out was quite difficult and nerve-wracking especially with the super sharp chef's knife!
Kamo nas was deep fried, stuffed, and baked in the oven. The dish was ready and tasted so nice!
Morimoto-san was so kind and I really enjoyed learning from him. He even gave me 20 pages of printed out recipes of different sauces and dishes, which have been passed on in the restaurant. This packet is going to be my bible!!
After I said good-bye, I walked to Ginkaku-ji temple to renew my good luck charm ("omamori").