(Tuesday, June 4)
Our second night in Kyoto was a special dinner at
Kikunoi
.
At the foot of Higashiyama Mountain Range, this world-famous Kyoto kaiseki cuisine restaurant has its main house.
We were escorted to a beautiful private room with a wide window. The owner chef, Murata-san, came to our room to personally welcome us! He is a very good friend with Kyle and also his mentor. Kyle gave a gift, which is a beautiful yuzu chocolate by
Hudoson Chocolates
. Murata-san loved it. He sat with us to chat before dinner. He was so sweet, funny, and charismatic.
Our special seasonal kaiseki dinner began.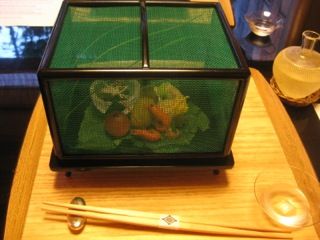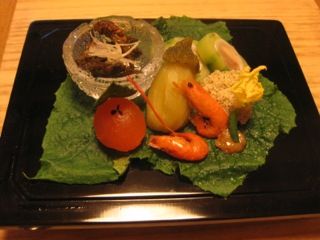 Assortment of appetizers: glazed Kamo river goby; flowering cucumber, barley miso; egg yolk pickled in white miso; octopus roe; brook shrimp; Wakasa tilefish and cucumber roll; jade eggplant
Wine-poached green ume plum, white wine sorbet
Sashimi of tai snapper and prawn, yellow Chinese chive, curled cucumber, wasabi
Sashimi of blanched hamo (pike conger eel), pickled ume puree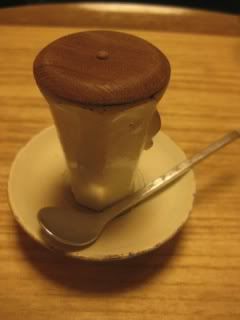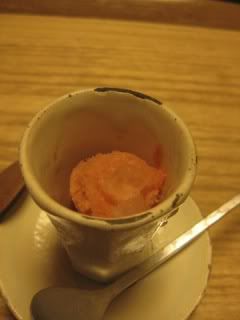 Hiryozu (tofu dumpling) stuffed with anago (sea eel), lily bulb, wood ear mushroom and carrot, green beans, kinome herb sauce
Tomato sorbet, aloe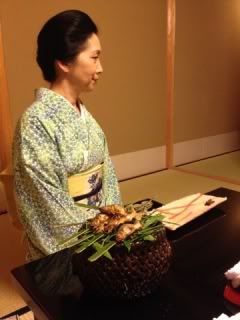 Live ayu (sweetfish) was brought to us before they were going to be grilled. They were jumping around in a basket and so pretty. After a while, it was Mrs. Murata (she's also the madam of Kikunoi) who came to bring us the just cooked fish. Salt-grilled ayu (sweetfish), sauteed fuki (coltsfoot stalk), water grass vinegar. She was so elegant and sweet. We enjoyed chatting with her so much.
Duck breast, taro, blanched taro stalk, baby okra, mustard
Chilled turtle custard, turtle soup gelee, poached shrimp, cucumber, thread-cut green onion, thread-cut fresh ginger
Abalone, uni, and wakame seaweed baked in salt, abalone liver sauce, salted sudachi lime juice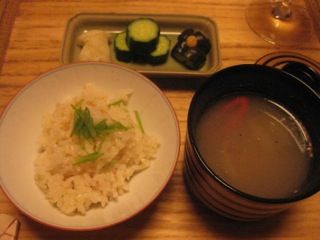 New ginger rice with fried tofu and mitsuba herb; pickled radish and sesame seeds, cucumber and eggplant pickled in rice bran; new onion soup, red Manganji pepper, baby onion, shichimi togarashi (seven spice) powder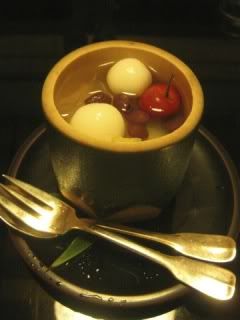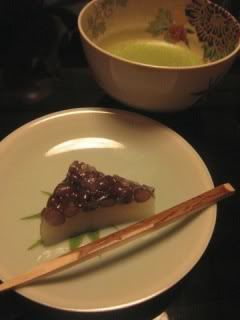 Agar jelly, rice flour dumplings, azuki beans, musk melon, pelican mango, cherries
The real elegant kaiseki cuisine...we enjoyed every moment.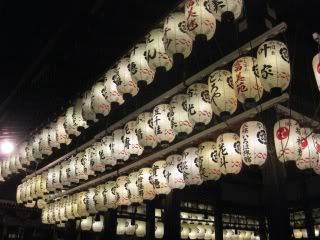 Walking after dinner felt so nice.