I came back to LA after a fun 2-week stay back in Japan.
Every 3-4 months, this is the scene after I return from Japan and unpack. This time, on top of what's on the table, I got a big box of 3 sets of nice summer bowls and plates, which was shipped from Kyoto to LA.
Jason said he missed my Japanese cooking so much while I was away. I was also ready for a humble home dinner after all the eating outs past couple of weeks.
This "suribachi" (mortar) is the same kind the shojin cooking teacher was using at her 350-year-old temple in Tokyo. She told me where I can find it, so I bought it and hand-carried all the way back to LA. It was really heavy! But, it's just so gorgeous. So, the first thing I made with was, of course, Goma Tofu (sesame tofu). I got Jason's help to ground the sesame...we kept grinding non-stop for 50 minutes. The Goma Tofu was served in the new summer bowls.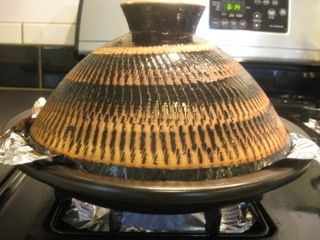 I steam-roasted asparagus in my
tagine-style donabe, "Fukkura-san"
, to make a simple side dish with sesame miso sauce. Yes, I used my brand new mortar again for this dish. Another side dish was baby potato and edamame in peanut sauce.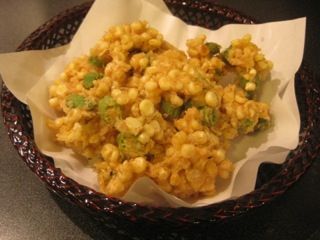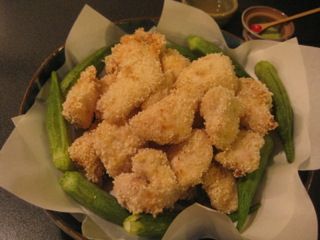 Two kinds of fried dishes...Corn and okra "kakiage" tempura, and
"Shinbikiko" chicken tender "kara-age"
.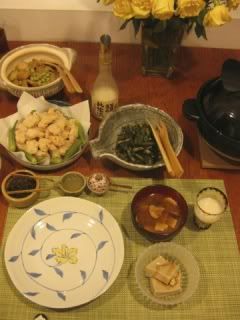 Junmai Ginjo "Hokushinryu" Nigori sake from Nagano prefecture was so mellow and soft. We also had "Matsuba kombu" (thinly-sliced braised kelp, seasoned in ground sansho peppers) from Kyoto, and miso soup, plus of course,
donabe rice
!
Happy donabe life.