(Saturday, October 20)
We checked out of the hotel in the morning and left for Trieste Airport. It was already time to say goodbye to my friends from Japan. They were going back to Tokyo via Roma. I was going to Budapest. They had been wonderful travel buddies, and it turned out to be the best and most stress-free group wine travel I've experienced! There is no direct flight between Trieste (Italy) and Budapest (Hungary), so I was flying via Munich (Germany). But, due to the heavy fog, the flight from Trieste had a delay by more than 1.5 hours. I was so nervous. Luckily, I still had enough time for connection in Munich, so I arrived in
Budapest
even before the scheduled time.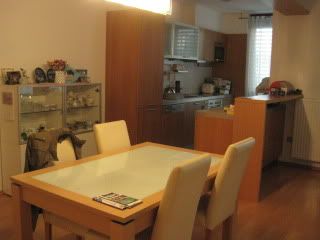 My friend, Hiroko ("Koroko") and her almost 8-year-old son, Ryosuke, came to pick me up at the airport. Koroko and I have been friends since highschool. She has been living in Budapest for 1.5 years because of her husband's job. It was so great to reunite with her and her son after several years! They live in a beautiful condo in the city of Budapest. I was so looking forward to spending next 3 nights in their place with them.
In the evening, we took a cab to go to dinner. We had a reservation at a brand-new restaurant called,
KNRDY
, which was opened just 8 days ago. In fact, the owner, Zoltan, is a friend of my friend in LA. That's how I got to know about this restaurant.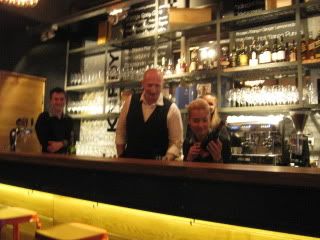 Zoltan and his staff gave us such a nice welcome. The restaurant is very modern and beautiful. KNRDY is a modern continental restaurant, which specializes in premium quality meat from different countries. First, we had a toast with nice Cava. Zoltan is an entrepreneur and he owns a famous gourmet store in Budapest also. He travels all over the world to find the best ingredients and wines. He was such a gentleman, and I enjoyed talking with him very much.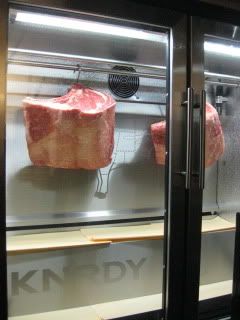 He gave us a tour of the restaurant. I was introduced to Hungary's famous Mangalica pork, for the first time! There was even Mangalica jamon. Zoltan said,
Mangalica
is the best pork in the world. I was so ready to try! We had dishes of Zoltan's suggestion…the dinner was a true feast!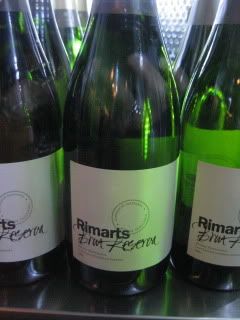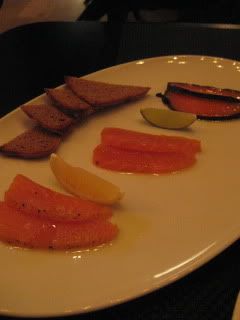 Crab and coriander tart was paired with welcome Cava. Carpier salmon platter. Seared squid with hot chorizo, garlic, chili, olive oil, lemon and coriander. Crispy Mangalica pork belly with frisee lettuce, radish and sesame oil…the meat melted in my mouse…amazing.
Seared king scallops on cumin and coriander lentils. Wild Argentinean shrimp pasta.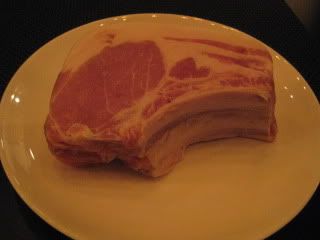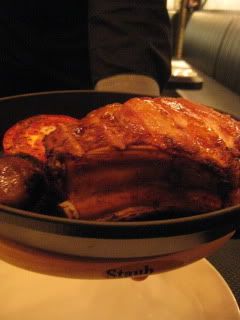 And, here it is…
Mangalica double bone-in chop!
It was grilled to perfection. The flavor was, indeed, nothing like I'd tasted before! This is truly a special pork. It was so juicy and the intensity of flavor was so high. I just couldn't stop eating it. With the pork, we had creamed spinach gratin and also sautéed mushrooms. Perfect trio. Hungarian wine selection was top notch, too.
We had
2009 Szepsy, Tokaj Furmint
, and
2008 Gere, Kapar, Villanyi Cuvee
…Blend of Cab and Merlot. We were in heaven, really. Dessert was KNRDY's "makos guba" with custard sauce. It's a sophisticated version of Hungary's traditional dessert. Sponge base and topped with tons of poppy seeds. Very nice.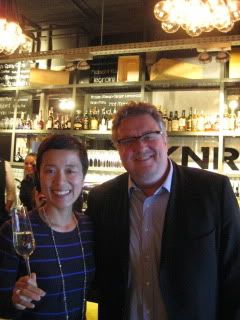 There were so much food, but we finished almost everything. It was really a great culinary experience.