(Monday, October 15)
It was drizzling in the morning in
Gorizia
, but it was a comfortable temperature. It's been warmer than I thought in Friuli since we got here a few nights ago.
This morning, we drove to
Valter Mlecnic in Bukovica, Slovenia
. It's near the Italian border.
The estate is a large and beautiful place with old house and winery facility from Valter's grandfather's generation. Valter and his dog welcomed us.
The sky was already clear and he guided us to his vineyards just across the street from the estate. 5ha is planted with white grapes and 4ha (leased) is planted with Merlot. The total production of Mlecnic is only about 9,000 bottles/ year.
Mulecnik is one of the top quality producers of Slovenia and he has been influenced by Josko Gravner, just like Damijan Podversic. So, he makes extremely natural-style wines.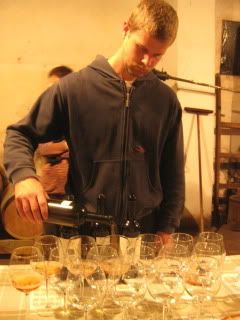 In his cantina, we tasted some of his wines. His son poured us wine.
2006 Chardonnay
2008 Rebula
...Ribolla Giala's Slovenian name. Not yet released.
2007 Cuvee Ana
...80% Chardonnay, plus Tokai, Malvasia, Pinela, etc.
2006 Merlot
...aged in barrique (no new oak)
All his wines are aged for 1-2 years in oak, followed by 2-3 bottle aging.
Very unique and special wines.