(Thursday, October 18)
Also in the
Carso
zone of Gorizia province (Friuli, Italy), we drove to
Sgonico
commune to visit Vodopivec, which is a very small and very natural winery, run by a
Paolo Vodopivec
.
Paolo is a very kind and very serious person. He grows grapes and makes wine only by himself. He took us to his 4.5 ha vineyards first and talked about his philosophy. He grows
Vitovska
grape only, in the very natural manner. Because the terroir of Carso is very severe with the strong wind ("bora") and the shallow soil on the hard red stone. The yield is only about 500g of grapes per vine, and 10,500 bottles/ ha.
Back in the cantina, he took us to his stone-made cellar, which he built several years ago. He practices fermentation in amphora (ancient-style clay vessel) buried in the ground, like Josko Gravner, for some of his wines since 2006. His wines are aged in 2 years in cask.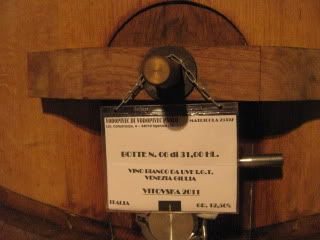 He first gave us barrel/ amphora samples of the following wines.
2011 Vitovska
...2 weeks maceration in wood open-lid Slovenian oak vats.
2011 Vitovska
...6 months maceration in amphora.
2011 Vitovska
...Experimental batch. Fermented in amphora and will be aged in amphora for 1-2 years.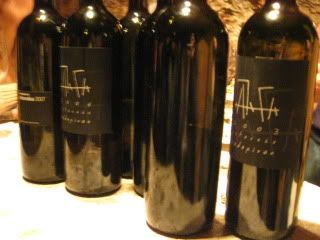 From the bottles:
2009 Vitvska Classica
...Fermented in Slovenian oak bats.
2009 Vitovska Anfora
...Fermented in Anfora.
2009 Vitovska
...From the specific vineyard, which is the closest to the rocks. Very particular terroir.
2007 Vitovska Anfora
2004 Vitovska
...before he started using anfora.
2003 Vitovska
Paolo didn't make 2008 vintage, because he was not happy with the grapes of the year.
It was super educational, and really wonderful.
I would love to taste his 2011 vintages when they are matured!