(Thursday, October 18)
In the morning, after about 1 hour drive from Cormons, we arrived in
Carso
zone of Gorizia province (Friuli, Italy). Carso spreads out near the coast line in the northeast Friuli which goes down to the border of Slovenia. Wines from Carso are best known for regional grapes of Vitovuska, Terrano, as well as Malvasia. This area has the particular terroir with the often violent wind called, "bora", and the very hard limestone rock ground, which is covered with a thin layer of clay.
Our first stop was
Azienda Agricola Zidarich
, in Duino Aurisina. The owner/ winemaker, Benjamin, and his family welcomed our group.
The winery in the hill overlooks the Gulf of Trieste. The view was magnificent.
Benjamin took us to his vineyards. Their vines are trained with Guyot and Alberello methods.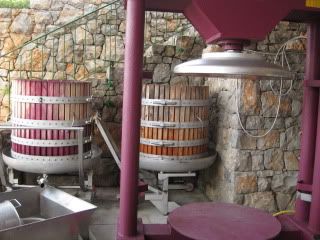 He showed us his new stone fermentation vessel. He said he is going to start experimenting fermentation with it. Then, he took us to the inside of the cantina (winery). From there, we started walking through the newly-made stone-wall cellar. It's an underground cellar, which was carved 5-story down by taking 9 years! It was so impressive.
We reached to the stone-vaulted aging room, and he gave us some barrel samples. At Zidarich, they make mostly Venezia Giulia IGP. Zidarich is also a natural winemaker, who does longer maceration and wines are bottled non-filtre when finished.
2012 Vitovska
...the grapes were pressed just 1 week ago. The maceration period was 18 days.
2011 Vitovska
...2011 was a much better year than 2012 according to Benjamin.
Back in the house, they treated us to their homemade lunch to go with the wine tasting.
We tasted the following wines.
2010 Vitovska
...now bottling.
2009 Vitovska
2010 Malvasia
2010 Prulke
...since '96 vintage. SB 60% , Malvasia 20%, Vitovska 20%.
2010 Teran
...100% Terrano grape.
2006 Ruje
..Merlot 80%, Terrano 20%.
2006 Vitovska Collection
...from the best vineyard. Only 1,300 bottles were produced.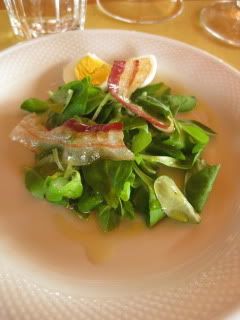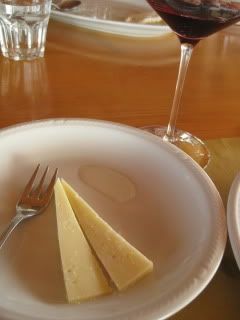 The lunch was really nice. We were told that they were going to provide just a "light meal", but it was a well-prepared lunch course! First, we tasted two kinds of local olive oils. Then, we had Valeriana (mache) and pancetta salad, Tagliatelle with fungi, and house-made prosciutto and salami with different cheeses.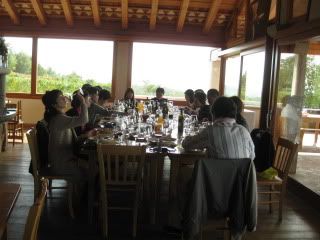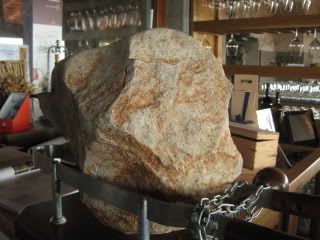 Both the wines and foods were excellent especially together. We ended up almost 6 hours at the winery! I never imagined Vitovska could make such a sophisticated age-worthy wine. Great experience.