Last Sunday, I did a big catering project for a wedding party.
In the past, I only specialized in catering for small groups, so it was going to be an exciting challenge to serve at a big party.
The wedding party was going to have about 100 invited guests, and I was requested to make 50 servings of assorted Japanese appetizers. Besides my dishes, there was also going to be burger catering truck and Japanese takoyaki station. What a great concept!
Most of last week until the wedding day were spent on shopping and prepping.
Then, the day of the service, I had the super helpers...Asami and Jason. We worked non-stop from early morning on Sunday. Asami and I cooked, and Jason cleaned. We made a great team, and I can't thank them enough for all the professional help (including Asami taking nice pictures) they gave me!!
Here's the menu...4 vegetarian dishes (of which 3 were vegan) and a fish dish.
"Shira-ae" Creamy Tofu Salad
-Haricot Vert, Roasted Walnuts, Mix Seaweed,
in Creamy Paste of Meiji Tofu, Saikyo Miso & Kyoto Tamahime Vinegar-
Long Hijiki Seaweed & Lotus Root Salad
-Quick-braised with Abura-age and Carrot-
Cauliflower & Caramelized Sweet Onion with Soy Sesame Sauce
Cinnamon-scented Kabocha Pumpkin & Mozzarella Croquettes
Roasted "Shio-koji" marinated Scottish Salmon
-Topped with Tangy Lemon & Ume Salt Yogurt-
"Satsuma" Sweet Potato & Azuki Bean "Onigiri" Rice Balls
-Cooked in Donabe Rice Cooker, Kamado-san, from Iga, Japan-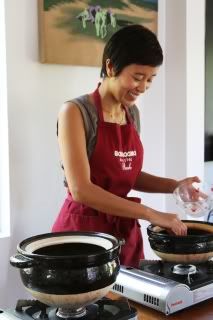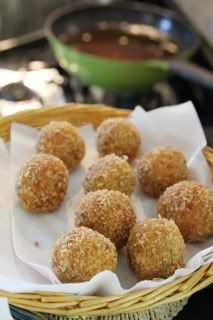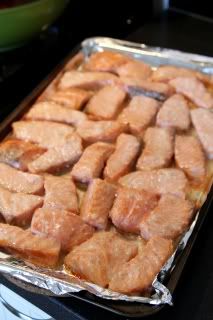 We never compromised in details. Every piece of ingredients had our attention and care. We also made multiple batches of donabe mixed rice for
onigiri
rice balls with the
double-lid donabe rice cooker, "Kamado-san"
. I can't do catering without Kamado-san...I'm that attached to this donabe! Some lucky people got to taste the onigiri with nice "okoge" crust.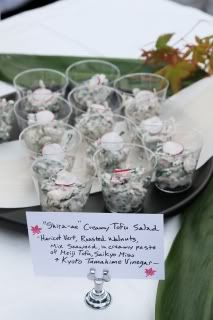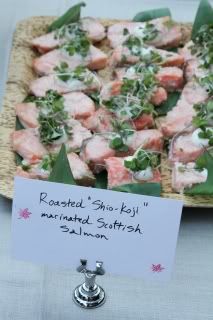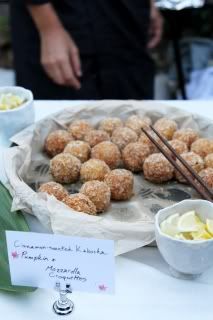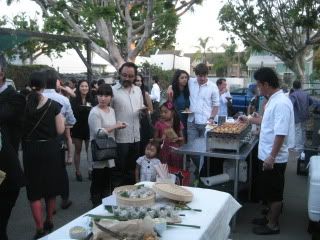 In the evening, we got to the venue and set up our station. We originally wanted to take photos of the entire set-up before the service. However, as we were getting the dishes out, it was too late...guests were ready to eat already! (That's why we didn't even have a chance to take pictures of the hijiki and onigiri dishes with decoration.)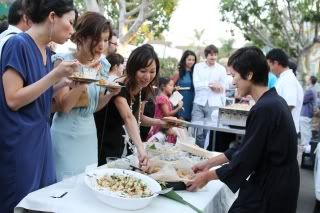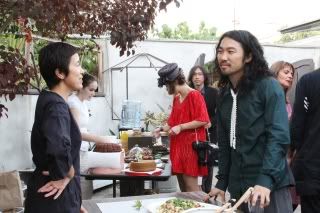 Most of the dishes were gone in a matter of short time...I mean, really fast. Can't ask for better compliment than that! I was so happy that the guests seemed to like the flavors, and I could even hear some of them commenting nice things about the dishes.
It was such a beautiful party, and it was my honor to be part of it!