(Tuesday, October 16, 2012)
In the evening, we checked in at,
La Subida
, in Cormons town of Gorizia (Friuli, Italy). It's an "agriturismo" (rural vacation accommodation) with big estate, completely surrounded by nature in the countryside.
La Subida
a family-own estate, with two restaurants and villas to stay. Each person had his/ her own bungalow to stay.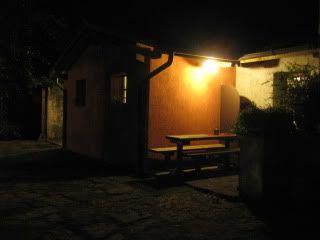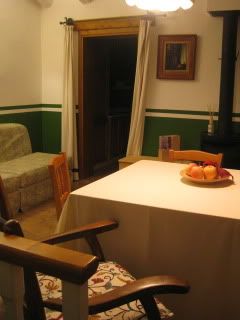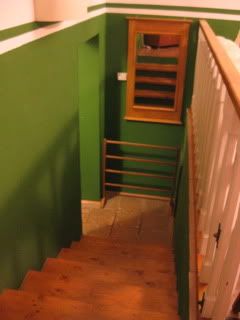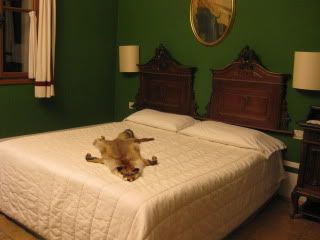 Here's my house. The first floor was a cute living/ dining, and a kitchen. There were complimentary wines (both red and white), water, tea, etc. Then, you go downstairs to find a bedroom and bathroom. It's such a cute place! I wish Jason could've stayed with me, because it's too big for just myself.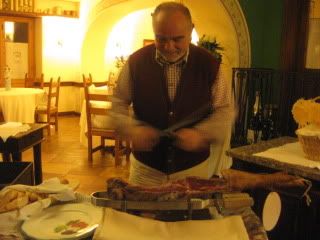 The dinner was a private party in their fine dining,
Osteria Alla Subida
. The owner, Josko, his wife Lorendana, and their son welcomed us and first offered us aperitivo. We had a toast with Spumante, and enjoed different appetizers.
Then, we were guided to the main dining room for dinner. They make contemporary regional
Friulian-Slavic cuisine
. So, I was very excited to taste the local flavors.
Onion rings with fried dumplings, stuffed with cheese, peach, walnuts, with sambuca sauce. Porcini, zucchini, and zucchini flower pasta buttata…the handmade short pasta had the nice firm texture, and the flavor of the porcini and zucchini with the sauce was so nice.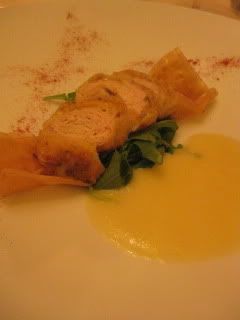 Poached dumplings, stuffed with burrata, with tomato puree and sclopit pesto. Local free-range chicken in pie crust with apple sauce. White wine vinegar sorbet.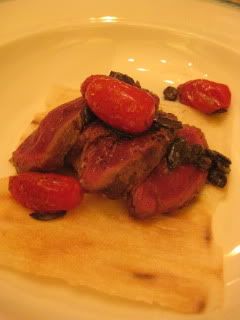 Local deer (capriolo), seared very briefly, so it was almost rare (intentionally), served with polenta. This dish was outstanding. The meat was so packed with flavor and very tender. Dessert courses included canole, brulee, and chocolate mousse. The wines were really great, too. We had the followings.
2007 Klinec Medana, Malvazija
(Goriska Brda, Slovenia)
2002 Josko Gravner, Ribolla
(Venezia Giulia, Friuli)…magnum bottle
1995 Radikon, Merlot
(Collio, Friuli)…magnum bottle Another big wine dinner, more fun.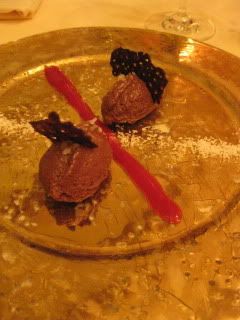 And, of course, desserts.
Lovely first night in the countryside.