(Tuesday, October 16, 2012)
In the morning, we drove to visit
Josko Gravner
in Gorizia (Friuli, Italy). It became one of the most special winery visits I've experienced in the past years.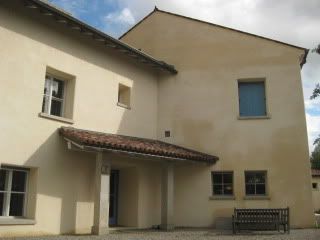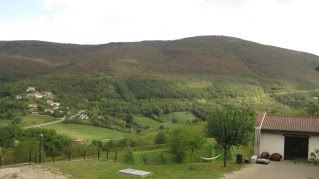 Josko Gravner and his daughter welcomed us at their winery.
Gravner is one of the most respected natural wine makers in the world, and he is a charisma in Friuli.
He has been influencing many serious winemakers both in and outside of Italy. It was such an honor to be able to visit him, because the winery is not only closed for public, but also Josko rarely accept visits even by professional sommeliers or other winemakers from any country. Josko has been making wine for over 40 years, and his winemaking life has been the quest for making the best quality wine. He was among the first winemakers who used stainless steel tank for both fermentation and aging, and he stopped using stainless steel tank about 20 years ago to start experimenting with even barrique. But, it was since 2001 vintage, he decided to use amphora, which is an ancient clay vessel for fermenting wine, because he discovered that amphora, for him, makes the best quality wine, which is very true to nature.
So, he took us to the amphora fermentation room. He said during long fermentation/ maceration time in amphora, he does punch down about 5 times a day. Then, the wine is transferred to large oak barrels and go through slow aging over 41 months before bottle-aged for several months. His wines are released after 7-8 years from the harvest.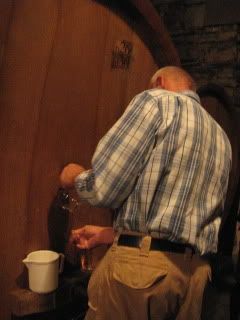 We got to taste barrel samples of the following wines:
(Barrel samples)
2011 Breg
…blend of Chardonnay and Riesling at this moment. Pinot Grigio will be blended to this bathc in the future.
2011 Ribolla
2008 Breg
2007 Ribolla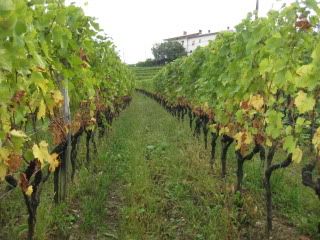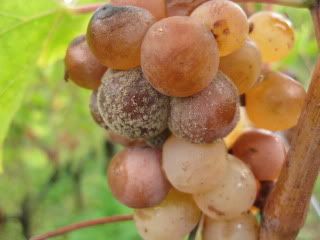 From his winery, he took us to his main vineyards, which are just about 5 minutes away by car but already in
Slovenia
. Ribolla grapes were still on the vines and they tasted so sweet and nice. Many of the grapes were already affected by
botrytis cinerea
. That's the key to make age-worthy rich dry white wine. There are only 4-5 clusters per tree, and the qualifying grapes will be further selected from each cluster. So, it's a real labor of love for him.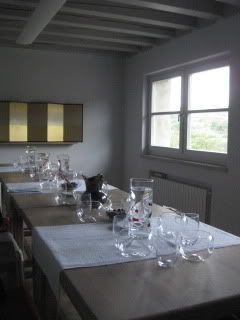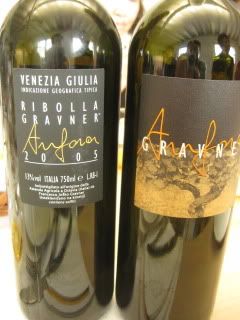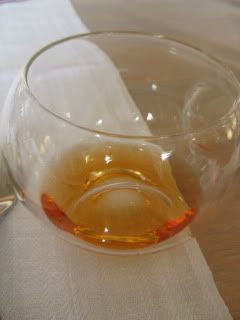 After we went back to his winery, we were treated to homemade lunch by Josko's wine, and their daughter helped serving us. He also opened two of his current releases.
2005 Breg
2005 Ribolla
They were served in his original unique-shape hand-blown tumbler wine glass, which Josko designed after Caucasus' clay tasting cup, which he loved when he visited there in 2000.
The lunch was really amazing. Everything was handmade and even most of the ingredients were from the family farm.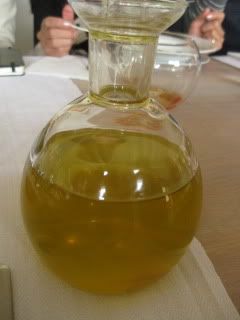 Young garlic and ricotta crostini, homemade focaccia, and home-grown olives. Wild mushroom minestrone and olive oil. The mushrooms were harvested just yesterday from their property, and the olive oil was Josko's homemade from his olive trees. He makes about 100L olive oil just for the home use every year. The soup was truly amazing, and everyone had a second serving!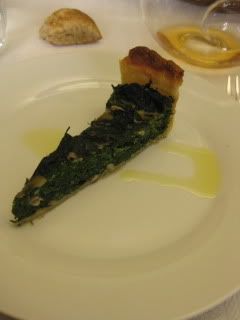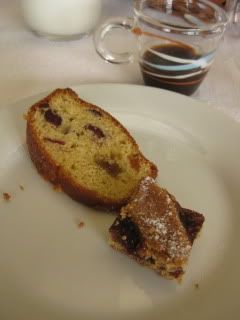 We also had two kinds of spinach torta (one was with sunflower seeds and the other was with pumpkin seeds). Yes, the spinach was from their farm also. It was so rich in spinach flavor and very nice. Green frittata and sausage of 60-day dry-aged beef. They were followed by two kinds of desserts.
Totally my kind of cooking, and real farm-to-table! It was quite surreal to have lunch with Josko Gravner and treated to his family's homemade dishes and his own wines. I thought I was in a dream.
Josko was such a sweet gentleman and really charismatic. His wife and daughter were also very sweet. It was a real special experience I will never forget.