(October 12 and 13)
My much anticipated trip to Friuli (Italy) and Slovenia plus Budapest has finally begun. I left LA on October 12 (Fri) and after a long trip, I finally arrived in Trieste, Italy (in Friuli region) on the night of 13th (Sat). At the airport, I met with Etsuko (my first wine teacher at Academie du Vin in Tokyo) and other hard-core wine buddies who flew from Tokyo via Rome.
It was already past 11pm, and our driver took us to Gorizia, which is about 45 minutes from Trieste. We checked in at the hotel and slept.
(Sunday, October 14)
This was practically our day 1 of this trip. We had an appointment with Damijan Podversic, who is one of the top natural wine makers of Friuli. His philosophy is extremely unique and strict to nature's advantage. Damijan himself kindly came to meet us at the hotel. We spent a full day with him!
First, before visiting his vineyards, since we just arrived in the historic town of Gorizia, he took us to its landmark castle. It was originally built in 11th century but was bombed during WWI and rebuilt in 1930s. The view was very nice. From the hill, we could even see Slovenia in just a short distance away.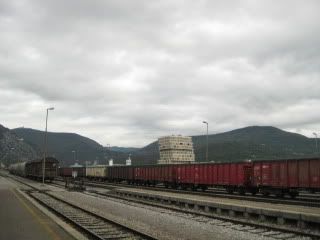 Then, we drove to the border of Slovenia. The train station is within Slovenian border.
We were back in
Gorizia
and drove to
Damijan's
vineyards. He owns a 10 ha farm of which 6 ha are planted with vines. The location of vineyards used to be just woods and he cultivated the land from scratch in 1990's. It was very interesting to learn about his philosophies in growing grapes. He does completely organic (certified, but he doesn't want to advertise, as he think the certification means nothing) with no irrigation, and he let his white grapes ripen until they are partially botrytized.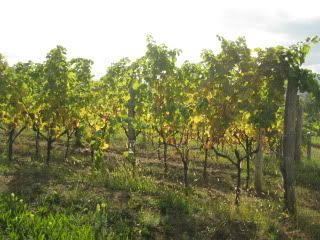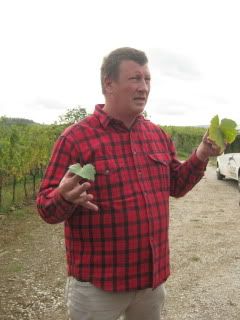 So, his grapes are naturally late harvest (almost a full month later than other producers in Friuli region). All the grapes are hand-picked and even the grape berries are individually selected. The grapes tasted so concentrated and sweet! While he bares much higher risk of letting the grapes damaged from bad weather, etc. by doing late-harvest, his wines made from these painstakingly selected grapes are totally exceptional. From those grapes including botrytized kinds, he makes only dry wines.
We drove again for a little while to get to his winery, where his wine Elena welcomed us with her homemade picnic dishes. We did tasting of Damijan's wines over picnic lunch. Damijan also sliced special prosciutto from Slovenia. It was made by his friend in the very natural way. Cured only with salt and air-dried for months. It was so scrumptious.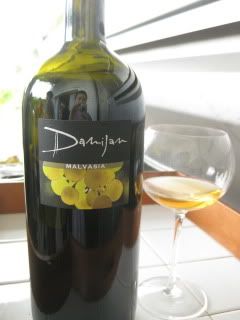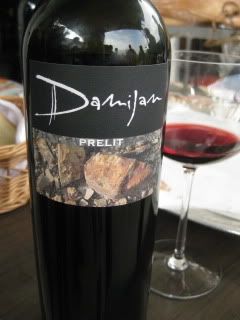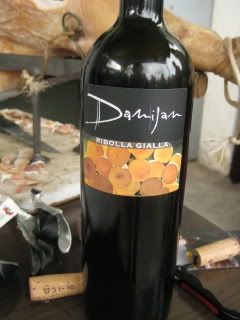 Damijan produces 5 kinds of whites and 1 red. The total production, at best, is only up to 30,000 bottles. So, it was such a special opportunity to taste some of his rare wines. The wines we tasted were...
2008 Malvasia
(magnum)
2008 Bianco Kaplja
...blend of Chardonnay, Friulano, and Malvasia. 3 bicchieri by Gambero Rosso
2008 Prelit
...Merlot and CS
2008 Ribolla Gialla
He took us to the cellar and showed us fermentation tanks. For the newly-harvested grapes, he macerate skin for 3 weeks and does punch-down 3 times a day. We also tasted from barrel the followings.
2011 Ribolla Gialla
...from very hot year, so no botrytis. More than 16% al!
2010 Ribolla Gialla
All wines were extremely intense, yet because of natural character, none of them were overpowering in any sense. They were all fermented with natural yeast and aged for at least 3 years in barrel and bottle.
So special! I loved how passionate and philosophical Damijan was about his wines, and I could really taste honest his personality in his wine.