(Monday, October 15)
From Mlecnik's winery, we kept going for a little over one hour to arrive in
Ljubljana, the capital city of Slovenia
.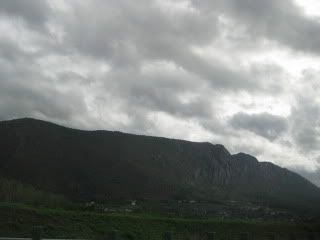 It was a scenic view of mountains and nature all the way.
Our first destination in Ljubljana was its historic castle. By the recommendation of Josko Gravner, we had a reservation at
Gostilna na Gradu
restaurant in the castle.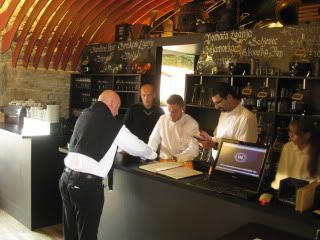 They serve classic Slovenian cuisine at this restaurant. So, I was really excited to try what the food was going to be like.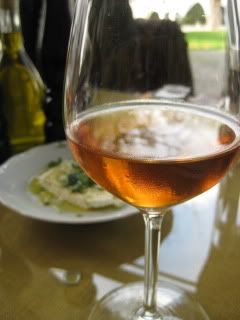 At this restaurant, another unexpected amazing thing happened! Josko Gravner not only recommended this restaurant, but he also sent a case of his wines to the restaurant for us! So, we got to enjoy the amazing mariage of his wine and Slovenian dishes.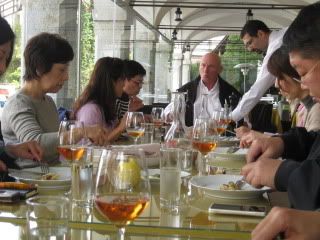 Also we were treated with such warm welcome by the restaurant, and even the owner of the restaurant joined our lunch.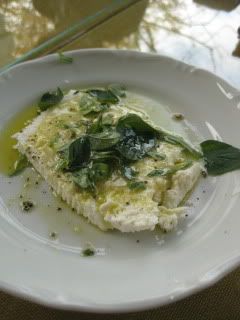 Aperitif snacks were Ricotta with herb and olive oil, and fried pork and apples.
Raw porcini carpaccio. Pumpkin gnocchi with save and olive oil, topped with smoked cheese.
Poached seabass. Beef liver with polenta.
Roasted lamb and fennels. Apple streudel with raisin and pine nuts.
I was so impressed by such sophisticated and quality dishes we tasted. And, unlike I imagined, these Slovenian dishes were so delicate and not heavy. I loved every dish so much.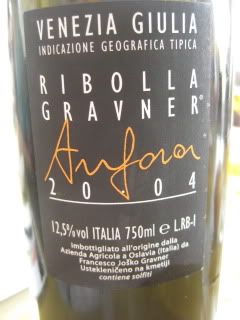 The wines were...
2004 Josko Gravner, Bianco Berg
(Venezia Ziuria)
2004 Josko Gravner, Ribolla
(Venezia Ziuria)
Gravner's amphora-aged wines were truly magical. They were so rich, yet so smooth and never tastes heavy. I couldn't believe we had almost "bottomless" Gravner wines!!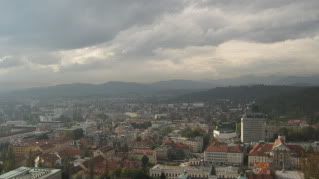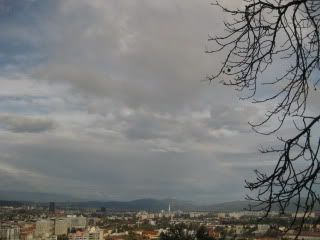 The view from the castle was great, too. I could see the whole city 360 degrees. On the way out of the castle, we saw a big rainbow!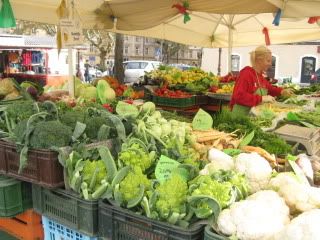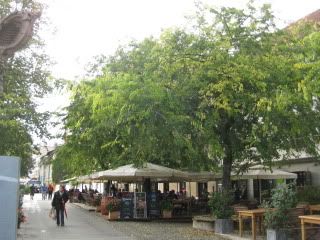 After lunch, we walked around the city. Ljubljana has a nice relaxed atmosphere. We were invited to another restaurant by the same owner of Gostilna na Gradu for digestive. I don't remember the name, but it was made from medicinal herbs and tasted very good.
Power nap in the bus on the way back to Gorizia!