(Saturday, October 21)
Gorgeous sunny day in Budapest. We were still quite full from last night's feast at KNRDY, so we had a very light breakfast and left home in the late morning.
It was very warm, and we didn't even need a jacked during the day. Koroko said it had been unusually warm in Budapest since a few days ago. We took a tram to the city central.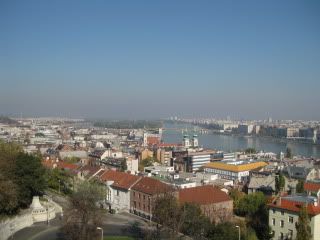 Then, we took a bus to go up near the famous Matthias Church and palace. Here I was…with the gorgeous view of Budapest city.
Near the church, we stopped by at a cute local restaurant for lunch. It's called
Pest-Buda
, where they serve home-style Hungarian dishes. The building used to be an inn until 1,800's with an original baroque roof structure. The ground floor has been a tavern/ restaurant for several centuries.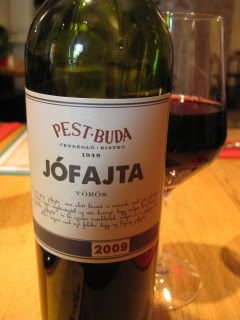 Mixed salad with ewe cheese. Egg-letsho and sausage Hungarian pizza. Crepe "Hortobagy" style, stuffed with minced chicken in paprika sauce. Wine was 2009 Jofajta, Szekszart (Voros, Hungary). Very, very nice! I thought the dishes were more sophisticated home-style, and flavors were really nice. I thought if there is a Hungarian restaurant like this in LA, it will be very popular.