Pressing grapes manually at Frank Cornelissen
October 24 (Thurs)
We left the hotel in the morning and our first destination was
Frank Cornelissen
in Etna. Frank, who is originally from Belgium, is one of the most naturalist wine producers in Etna.
We first met his wife, Aki (yes, she's Japanese!), and she took us to their most prestigious Magma vineyard. The vineyard was on a steep hill side. It's high density, and she said tending this vineyard is really difficult and labor intensive.
We drove to their cantina (winery), where the workers were busy pressing and fermenting just harvested grapes.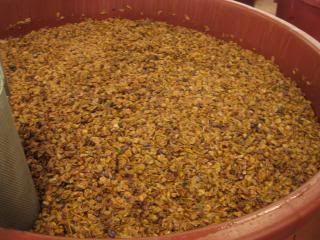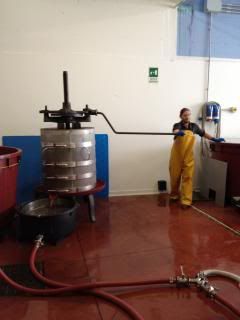 They take very manual labor intensive methods here. I've never seen manually pressing the grapes like that before. It was so cool.
For their top level Magma wine, they use amphora for fermentation. We also met Frank.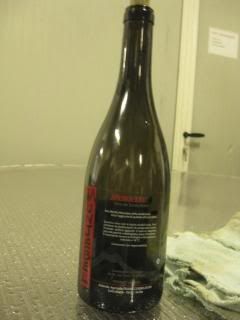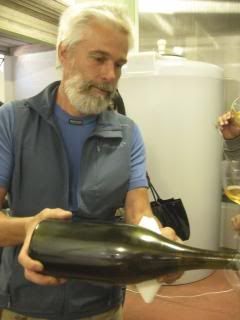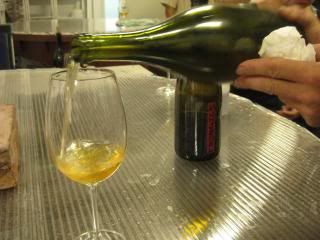 We had the tasting of some of his wines.
2012 Munjebel ianco (mostly Grecanico?)
2012 Munjebel (MC...Nerello Mascalese 100%, from lower altitude)
2012 Munjebel (VA - Vigna Alta…same grape, from higher altitude)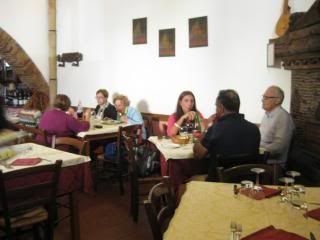 After the visit, we had lunch at a popular local restaurant called,
San Giorgio e Il Drago
. Frank told us that the food at this restaurant is very good local style, while they almost never change the menu!
Antipasti was followed by zucchini orchiette pasta and ragu pasta. Really nice.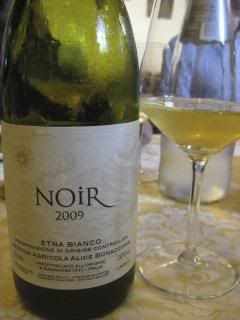 Secondi was local rabbit and lamb. They do meat right! Wines were nice, too.
2009 Murgo, Spumante Brut (Nerello Mascalese 100%)
2009 Alice Bonaccorsi, "Noir" Etna Bianco (Carricante and Catarratto)
2003 Calabretta, Etna Rosso I enjoyed the rustic local-style lunch very much.