View of Mount Edna's Volcanic Eruption from the Sky
October 26 (Sat)
Since I was going to Berlin on my own, and my flight was going to be much earlier than the rest of the group, the hotel arranged a private car to the airport for me.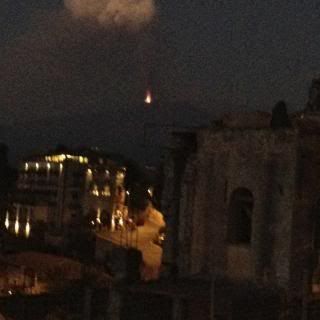 I left the hotel before 7 am. Instead of going straight to Catania Airport, the driver stopped at a scenic lookout spot for me, and he told me to look up Mount Etna. I saw lava shooting up from the mountain! I couldn't believe my eyes. It was really incredible.
As the car drove to Catania, my eyes kept being transfixed to Mount Etna. I could see the smoke and ashes were spread out wider and wider in time. I even started worry if my flight would take off on schedule.
Luckily, it didn't affect my flight. And, I could see the eruption from the sky! It was simply one of the most magnificent view I've ever seen. Awesome.
The flight from Catania to Berlin was about 2.5 hours. Meanwhile, breakfast was served and the appetizers came in a bento box! I thought it was so cute. Even a cupcake was in cup made with bamboo leaf.