Family of Bonavista Winery
October 25 (Fri)
It was already our last full day in Sicily.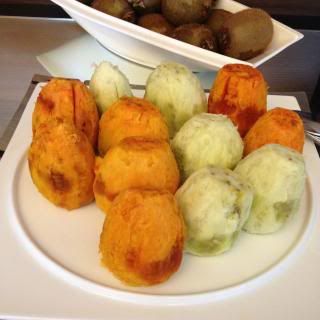 I had the last breakfast at our beautiful resort in Etna. Whole cactus fruits looked so cute. Morning view of Mount Etna from the hotel was beautiful, and I could see some smoke coming out of the top. Is the mountain going to erupt?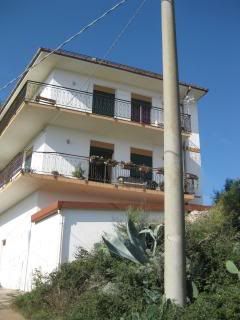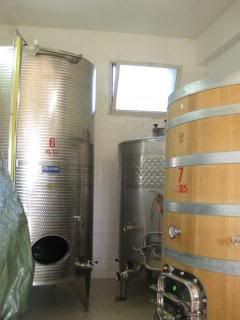 From Etna, we drove about 90 minutes to a beautiful coastal town of
Messina
. Our microbus drove up to the steep hillside where
Bonavita
has its cantina.
The owner and winemaker of Bonavita,
Giovanni
, along with his father and brother-in-law welcomed us to their micro-production cantina. It's actually like a garage space in the ground floor of their house. The family had been growing grapes for generations for generations only for personal consumptions until Giovanni turned it into a winery and named it Bonavita back in 2004. Their first vintage is 2005 (released in 2006), and the current total production is only about 7,000 bottles.
From the home/ cantina, they drove us to their vineyards further up on the hill. The ride was so wild, as we drove through really rough unpaved road and it was like a jungle! When we finally got there, there was the beautiful panoramic view. I've never seen the vineyards, cactus, and ocean in the same view!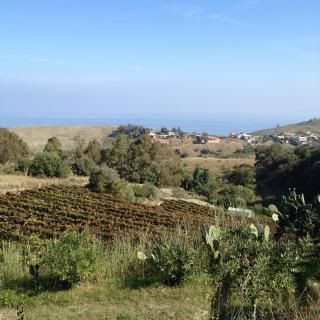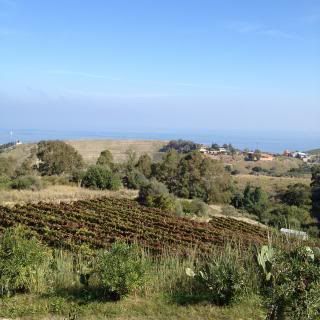 Bonavita owns just about 2 hectares total vineyards out of total 25 vineyards of Faro Superiore DOC site. This small appellation is owned by 5-6 producers now. Like other vineyards in Sicily we've visited past days, they also plant various mixed grape varieties in the same vineyard with no clear separations. Giovanni explained that it's been like that for so many decades, so it's just the way it is.
Some of the vines are over 80 years old there.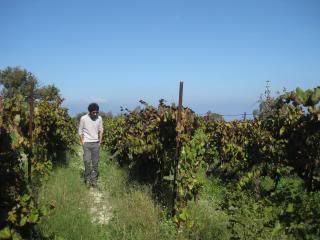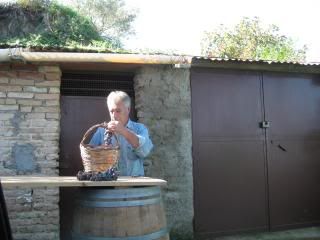 Giovanni is a strong believer of natural wines. So, he grows grapes only in natural ways. This year's harvest ended on October 10, and he said they were going to spread beans on the soil tomorrow. There is no artificial fertilizes are used.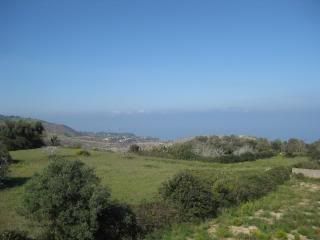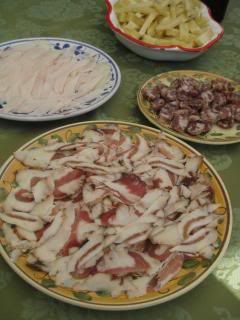 We drove back to his house, and in the balcony, we had tasting of Bonavita wines. Giovanni and his papa kindly treated us to light lunch with their homemade salumi and local cheese!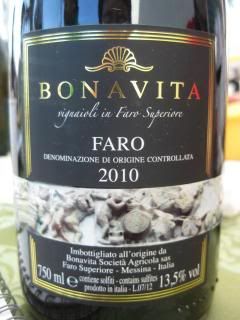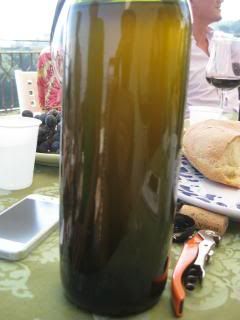 We tasted these wines.
2013 Bianco (his experimental first white, blend of all different white grapes grown in his vineyards, including Cataratto, etc. Only 70 bottles are made and it's still under fermentation.)
2012 Terre Siciliane Rossato (Nerello Mascalese 60%, nerello Cappuccio 30%, Nocera 10%)
2011 Rosso (DOC Faro – Nerello Mascalese, Nerello Cappuccio, Nocera)
2010 Rosso (DOC Faro - Nerello Mascalese, Nerello Cappuccio, Nocera)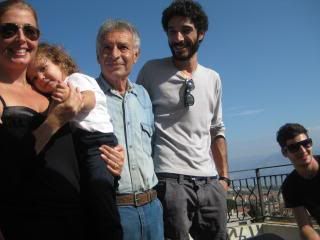 Bonavita was our last winery visit in this trip, and I must say that I met the best wine in this trip here! I was completely fascinated by Giovanni's passion in making the wine he likes and I could taste his personality and philosophy in his wines. His DOC Faro Rosso was so elegant, and it had the similar complexity with fine Barolo. I'm such a big fan of Bonavita wines, Giovanni, and his family now.
Wonderful wines are made by wonderful people.