Tuna Tartare at Tischi Toschi
October 25 (Fri)
We stayed at Bonavita longer than we scheduled, as we had such a great time there.
Later in the afternoon, we drove to the last destination,
Taormina
, which is a famous historic resort town. Movie "Le Grand Bleu" (The Big Blue) was shot in this town. Our hotel was situated on the cliff overlooking the ocean.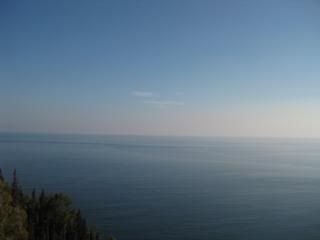 Every room has the ocean front view. I wished I could've stayed there for much longer, but we were only going to stay for one night.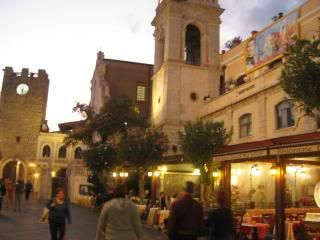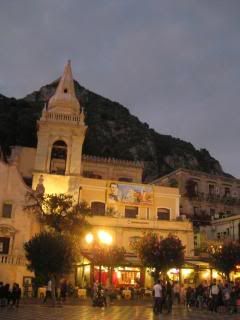 We walked around the town and did some shopping.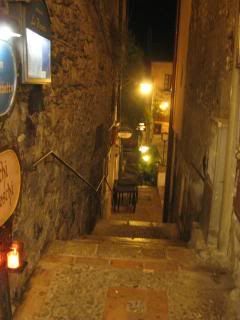 For dinner, we had a reseravation at
Tischi Toschi
, which is a renowned restaurant serving seasonal regional cuisine including top quality raw ingredients.
Chef Luca Casablanca
is a very passionate chef. He gave us a warm welcome and we had a toast with him.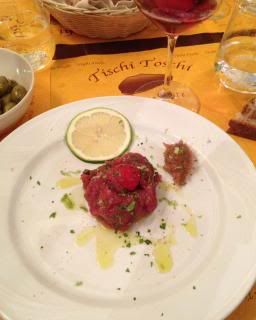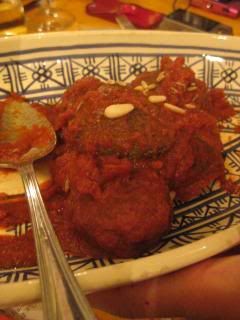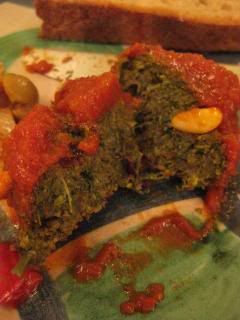 We started with tuna tartare with ginger confit. The dish was extremely fresh and tasty. With this one dish, I could tell this dinner was going to be amazing. Tuna was followed by different kinds of fantastic antipasti, including the salad of salt-cured cod, vegetable balls with tomato sauce, and albacore salad.
Fritter of mussels and sardine were so tasty, too.
Spaghetti vongole was made with local clams, which are very tiny with orange edge. Another pasta dish was handmade carrubo (Sicilian beans) pasta and sardine. I loved both of them!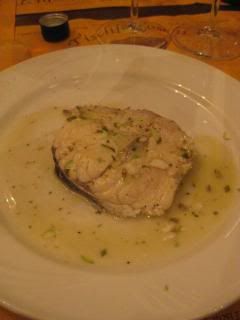 I was already quite full, but there was a generous portion of secondi, followed by dessert. The fish was local albacore, and the dessert was Sicilian lemon jelly. They were so good that I couldn't pass.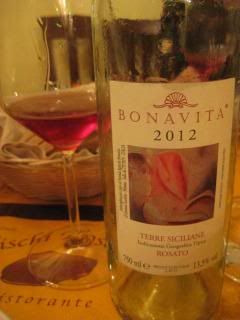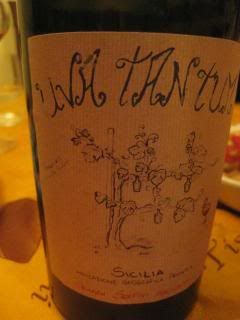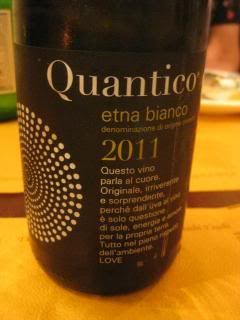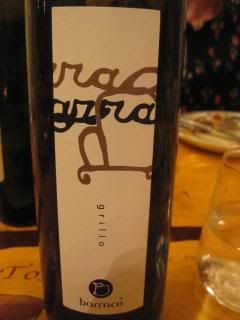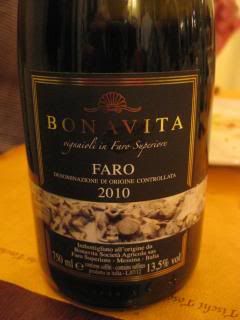 The final dinner in Sicily turned into a real fun party. We opened so many bottles.
2012 Marco Sferlazzo, "Porta del Vento", Catarrato
2012 Bonavita, Rosato
2010 Uva Tantum, Nero d'Avola-Syrah
2012 Barraco, Grillo
2011 Quantico, Etna Bianco (Carricante 100%)
2010 Bonavita Rosso (DOC Faro)
2007 Tenuta di Fessina, "il Musmeci" Etna Rosso (Nerello Mascalese)
2007 Alice Bonaccorsi, "Cru Cimonaci"
Our Italian wine trip was a big success and so much fun again this year. I am already looking forward to next year…which region should we go?!