When the tofu is steamed in
donabe steamer, "Mushi Nabe"
, the flavor become richer.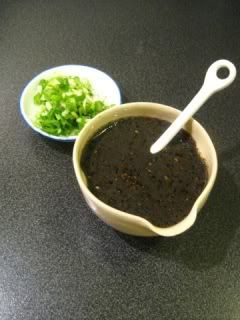 All I need to do is just get the sauce and topping ready.
Steam the ingredients (add the shungiku at the end).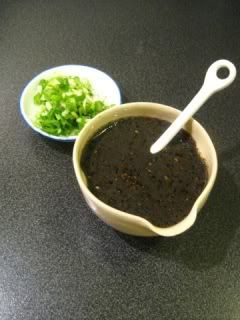 And once it's ready, enjoy immediately.
Steamed Tofu with Black Sesame Sauce
Ingredients:
(4-6 appetizer servings)
19 oz (560 g) medium-firm tofu (I like Meiji Tofu)
6 medium-size shiitake mushrooms, cut in half
4 oz (120 g) chrysanthemum leaves ("shungiku")
1 scallion, minced
(Black sesame sauce)
1 1/2 tablespoons black sesame paste
1/2 tablespoon raw brown sugar
1 1/2 tablespoons Japanese black vinegar ("kurozu")
1 1/2 tablespoons soy sauce
1/2 teaspoon "La-yu" chili oil
1 teaspoon black sesame seeds, roasted and ground
Procedure:
Whisk together the ingredients for the sauce. Set aside.
Get "Mushi Nabe" ready according to the basic steaming instructions.
Place the tofu in the center of the steam grate. Arrange the shiitake mushrooms in two opposite sides of the tofu.
Cover with lid and steam for 8 minutes or until the tofu is heated through and mushrooms are cooked over medium-high heat.
Add the chrysanthemum leaves in the the other open sides of the tofu. Cover again and cook for 1 minute.
Slice the tofu and serve into individual bowls with the mushrooms and chrysanthemum leaves. Pour the sauce and sprinkle some scallion to serve.
Happy donabe life.