(Day 2 - Fri, March 1)
Needless to say, another freezing day in Chicago. As the trade show is starting tomorrow, we had such a busy time getting prepared for it.
I went around town to do shopping for stuff I need to do cooking demonstration in our booth. We were finally done getting everything ready much later than we planned, because there were some happenings including missing delivery of the furniture pieces for our booth.
But, everything went well at the end.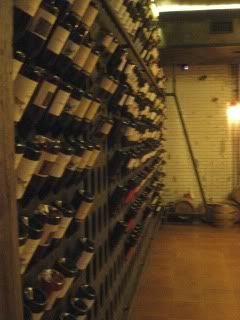 We had a reservation at a restaurant called,
Trenchermen
. I had to call them that we were going to be late by almost 1 hour. The restaurant is extremely popular, but they still kindly save us a table. It's a modern American restaurant with creative hearty dishes. The place has a large stylish bar room as well as dining area.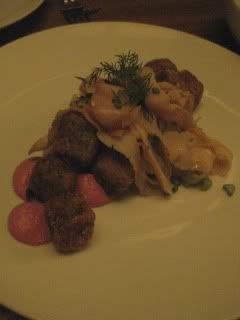 Brussels sprouts, house made capicola, kimchee aioli, nori. Pickle tots, chicken breast bresaola, red onion yogurt, scallions. Chestnut tortellini, smoked pickled grapes, mushroom, butternut squash, cocoa nibs.
Really nice trio.
Organic Scottish salmon, braised red cabbage, pumpernickel dumplings, candied quinoa. Aged pekin duck, chicory sausage, braised endive, mandarinquat, sweet potato jus. Aged New York strip, fried beef tendon, Yukon gold potatoes, pickled turmeric.
Wow, all the flavors worked out so nicely.
They have a nice eclectic wine list. We had,
2009 Rocca del Principe, Fiano di Avellino
(Campagna),
2009 Domaine Turner Pageot, "Carmina Majeur"
(Languedoc), and
2011 Broadley Vineyards, Estate Pinot Noir
(Willamette Valley). Before dessert, we had their homemade salame plate including kimchi mortadella!
Desserts were nice, too. The big trade show is starting tomorrow!