This is a nice eclectic donabe one pot dish with really nice flavors. I always enjoy the flavor combination of miso and tomato. With fish and different kinds of ingredients, the broth becomes really enriched. I use
soup & stew donabe, "Miso-shiru Nabe"
, for this dish.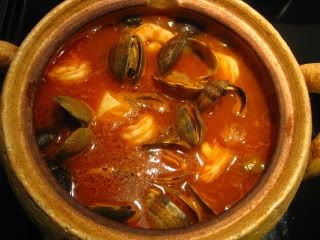 Hope you will try it at home. Here's my recipe.
Seafood Miso Tomato Hot Pot
Ingredients:
12 oz (350 g) ocean trout filet, cut into smaller pieces
4 oz (120 g) peeled and deveined large shrimp salt and pepper
1 tablespoon olive oil
1 tablespoon butter
½ medium-size onion, minced
1 clove garlic, grated
1 knob ginger, grated
2 tablespoon sake
1 cup (240 ml) tomato sauce
2 cups (480 ml) dashi stock about
1 cup (240 ml) combination of leftover vegetables such as cauliflower florets, brussels sprouts, satsuma sweet potato ("satsuma imo"), and shiitake mushrooms
2 tablespoons red or yellow miso
8 oz (240 g) clams, scrubbed some chopped chervil
Procedure:
Season the fish filets and shrimp lightly with salt and pepper, and set aside.
Heat the olive oil and butter in "Miso-shiru Nabe", and sauté the onion, garlic, and ginger, over medium heat for 25-30 minutes or until the onion is very soft and starting to caramelize. Reduce the heat, if the onion is getting burned.
Add the sake and continue to cook for a few minutes.
Add the tomato sauce and dashi stock, and turn the heat to medium-high. Bring to a boil and reduce to simmer.
Add the vegetables, and simmer until everything is barely cooked through (about 5 minutes).
Add the miso and whisk gently until it's dissolved.
Pat dry the ocean trout and shrimp with paper towel and add to "Miso-shiru Nabe". Also add the clams.
Cover and simmer until everything is cooked through and the clams are open. Adjust the seasoning of the broth with more salt and pepper, if necessary.
Serve into individual bowls and garnish with some chopped chervil.
Happy donabe life.