(Day 6 - Tue, March 5)
The last day of the trade show was a snowy day.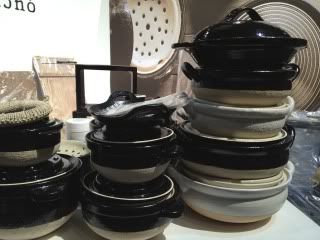 Big snow storm was coming to hit the city, and hundreds of flights for the day were already cancelled in the morning. In the snow, we still managed to the venue and completed the final day of the exhibition. We did a very successful show. All the donabe on exhibition were packed and they will go back to Iga tomorrow.
Our final snowy evening in Chicago was dinner at
Takashi
. The restaurant is a cute 2-story house with the nice homey ambience. Chef Takashi is a renowned Japanese chef, who creates modern Japanese cuisine with French essence. We did his "omakase" tasting menu.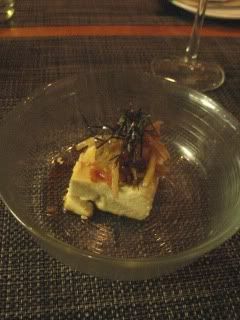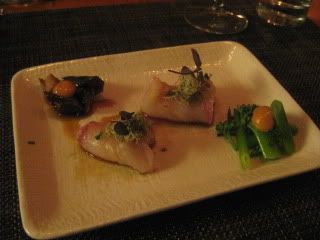 Amuse bouche was
sesame tofu with burdock root salad
. Really rich and nice. It was followed by
Crudo of buri yellowtail, monkfish "foie gras", tororo kombu, miso-mustard sauce
.
Washugyu beef tataki, seared Oregon waghy beef, Trumpet royale mushrooms, garlic, chips, chitrus-pepper sauce. Sauteed maine scallops and soba gnocchi, trupet royale, celery root-parmesan foam.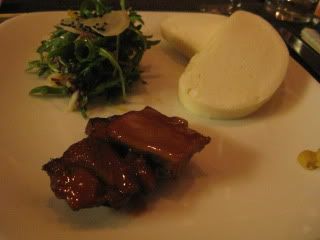 Soy-ginger caramel pork belly, pickled daikon salad, steamed buns. Roasted Indiana duck breast, duck rillette roll, baby turnips, yellow and green bean salad.
The egg and pistachio macaron, milk chocolate crème brulee in brown egg, caramel custard foam.
They have a rather short but thoughtful wine list. We enjoyed both white and red. 2010 Reserve du Sanglier, Chablis.
2010 Coca I Fito, Jaspinegre
(DO Montsant) (45% Garnacha, 25% Carinena, 15% CS, 15% Sy).
At the end of the dinner, Chef Takashi came to our table and we had a very nice chat. He and Nagatani-san even exchanged each other's books! The dinner was very nice, and we had a memorable final evening in Chicago. Now, we only hope that the snow will go easy by tomorrow morning and our flights will depart on schedule tomorrow.