In the recent years, growing number of people choose to eat brown rice over white rice, because brown rice is considered to be much healthier than white rice. And, I find many of them don't necessarily like the taste of brown rice more than white rice. I hope such people will try making brown rice with
double-lid donabe rice cooker, "Kamado-san"
, because, in my opinion, there is nothing compare to it. Period.
Luckily in the US, we can find a variety of decent quality rice which are grown in California. My choice is
Koshihikari
variety short grain rice. Koshihikari is one of the top quality rice varieties (originally) from Japan. New crop rice has higher content of moisture, compared to old stored kinds. This one in the picture is a short grain Koshihikari whole brown rice, which is available at Nijiya Market.
For the whole grain brown rice, after rinsing it, I normally soak 10-12 hours in filtered water with a pinch of salt. This small addition of salt will help reducing the bitter flavor from the rice. The general suggested ratio is 3 rice-cup (540 ml) whole brown rice to 900 ml water. But, because it's a new crop, I reduced the water amount down to just about 840 ml, so the rice water ratio is almost 1 : 1.5.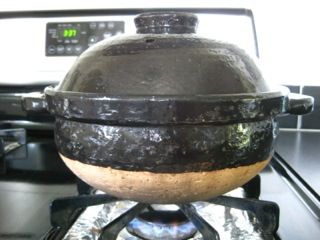 Rice and water are transferred to
"Kamado-san"
and cooked for 35-38 minutes over medium-heat.
Once the heat was turned off, the rice was rested in "Kamado-san" for about 35 minutes. Then, when I finally removed both lids to see the beautifully-cooked brown rice.
Whole grain Koshihikari brown rice cooked in donabe turns so fluffy but has the nice chewiness and sweetness in the mouth. I always love it and never get tired of it. I don't even need any condiments for this.
Super happy donabe life.