Once in a while, I have cravings for very simple "Yakisoba", which is Japanese stir-fry noodles. "Yakisoba" is a very popular street food in Japan, and the basic style "Yakisoba" is flavored with Japanese version of Worcestershire sauce or something similar. Because it's stir-fry, "Yakisoba" is often quite greasy.
But, with
tagine-style donabe, "Fukkura-san"
, with just a small amount of oil and its steam-fry effect, my "Yakisoba" becomes so fluffy and light body. Also, for the sauce, I do a simple blend of oyster sauce and soy sauce. Main ingredients to cook with the noodles are just vegetables, but if you like it meaty, you can stir-fry some slices of pork belly before adding the noodles.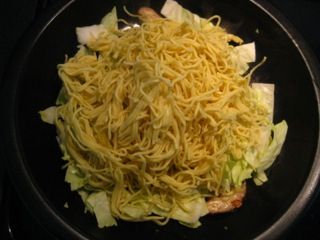 Garlic and shiitake mushrooms are sautéed in sesame oil. Cabbage, bean sprouts, and yakisoba noodles are added. Sake is drizzled and covered with lid.
Ingredients are steam-fried for 5 minutes, and the sauce mixture is added and stirred. It was covered again to rest for a few minutes off the heat. That's it.
Here's the complete recipe.
Steam-fry Vegetable Yakisoba
Ingredients:
(2 servings)
10 oz (300 g) yakisoba noodles
1 1/2 tablespoons oyster sauce
1 tablespoon soy sauce
2 tablespoons sesame oil
1 clove garlic, thinly-sliced
3-4 medium-size shiitake mushrooms, thinly-sliced
3-4 leaves cabbage, cut into strips
5 oz bean sprouts
2 tablespoons sake
a pinch of black pepper
Topping suggestions:
shaved bonito flakes ("katsuobushi"), thinly-sliced scallion, pickled ginger ("beni shoga"), "La-yu" chili oil, etc.
Procedure:
In the lid of "Fukkura-san", gently loosen the yakisoba noodles. Set aside.
In a small bowl, combine the oyster sauce and soy sauce. Set aside.
Heat the sesame oil in the skillet of "Fukkura-san" over medium-heat.
Add the garlic and shiitake mushrooms. Sauté until the shiitake mushrooms are soft.
Add the cabbage and stir for 30 seconds.
Add the bean sprouts and and spread over over the surface.
Add the yakisoba noodles to make a mound. Drizzle the sake all over the noodles.
Cover with lid and cook for 5 minutes.
Add the sauce mixture and black pepper. Stir quickly.
Cover again. Turn off the heat and let it rest for 3 minutes.
Uncover and garnish with bonito flakes, scallion, and pickled ginger. Drizzle some "La-yu" chili oil, if you like.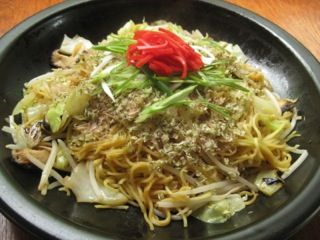 So fluffy and so good.
Happy donabe life.