A couple of weeks ago, I hosted a private donabe class for a group. We didn't use donabe smoker in the class, but one of them found it in the shelves and asked me about it. So, I showed it to everyone, opened the empty donabe smoker and let them smell the lid. Instantly, they got so attracted to it and just by the smoke aroma of the empty donabe, and they even became interested in doing a donabe smoking class next time!
Yes, the donabe smoker has that magical power. And, I can never resist this power.
We haven't made an official announcement yet, but in addition to Sakura (Japanese cherry blossom) wood smoke chips for our
donabe smoker, "Ibushi Gin"
, we now have 4 other varieties of smoke chips! Other varieties are:
Walnut: Has subtle nutty aroma.
Apple: Hint of fruity sweet aroma.
Oak: Mild aroma with darker color.
Hickory: Rich aroma.
Walnut, apple, and oak tree chips are all Japanese. Hickory wood is from the US.
All are 100% natural wood with no additives, and they made by a company in Japan. Japanese smoke chips are much finer pieces (in size) compare to American smoke chips. Unlike American kinds, Japanese smoke chips don't need to be soaked in water before use. You just put a small amount directly into a smoker and ready to go. So easy, yet they make real fine results.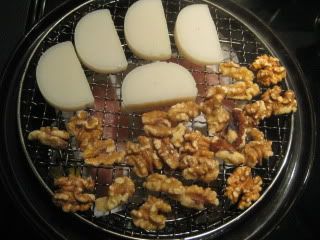 I tried walnuts and kamaboko (Japanese fish cake, sliced) with
apple smoke chips
, first.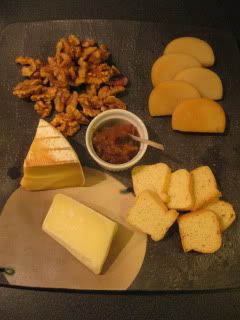 Very nice result. Indeed, apple gave a hint of sweet aroma. Nice!
Chicken drummettes, kamaboko, and Swiss cheese were smoked over
walnut smoke chips
. Walnut wood gave the subtle nutty aroma to them. Very nice, too!
More donabe smoking postings to follow. Different kinds of smoke chips are available and you can order from
toiro's website
. Just click on the order page link, then you can choose smoke chip options from there.
Happy donabe life.