Here's another spicy miso flavor pork dish with donabe, but it's quite different from the previous donabe hot pot dish.
I normally use Japanese-brand shirataki (yam jelly) noodles, but this time, I tried American brand "fettuccini" style yam jelly. It's called, Miracle Noodle. While marinating the meat, I prepared all the other ingredients.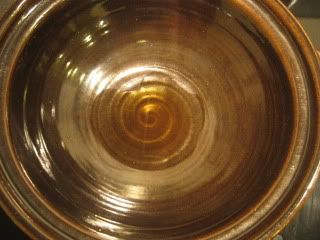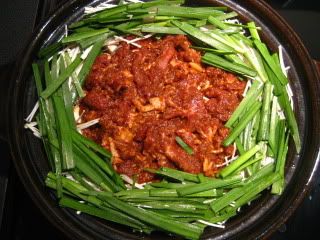 All the ingredients were piled up in the shallow donabe.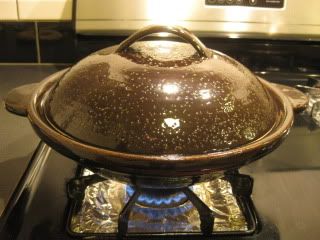 Just cover and cook over medium-heat for about 15 minutes, then stir. So, easy.
Spicy Miso-flavor Pork Sukiyaki
Ingredients:
(for the marinade)
1 clove garlic, grated
1/2 tablespoon grated ginger
1/2 tablespoon Chinese hot bean paste ("dobanjiang")
3 tablespoons red miso
1 tablespoon "Hatcho" dark miso (can be substituted with red miso)
1/2 tablespoon oyster sauce
2 tablespoons sake
1/2 tablespoon raw brown sugar
1/4 cup (60 ml) Chinese chicken stock
2 tablespoons white sesame seeds
10 oz (300 g) thinly-sliced pork but, cut into bite-size pieces
1 tablespoon sesame oil
7 oz (200 g) shirataki (yam jelly) noodles, blanched and cut into shorter length if necessary
3.5 oz (100 g) burdock root ("gobo")
2 medium-size shiitake mushrooms, thinly-sliced
7 oz (200 g) medium-firm tofu, cubed
3.5 oz (100 g) enoki mushrooms, cut into half
1.5 oz (50 g) Chinese chives ("nira")
1 scallion, thinly-sliced diagonally
1 knob ginger, cut into needle thin
some chopped cilantro
some powdered sansho pepper
Procedure:
1. Make 4 incisions into the burdock lengthwise. By using a peeler, slice into 2" (5 cm) long shreds. Set aside.
2. In a bowl, whisk together the ingredients for the marinade. Add the pork and mix well by hand. Let it rest for 10-15 minutes.
3. In donabe, drizzle the sesame oil, and add the following ingredients in layers, starting with the shirataki noodles, burdock root, shiitake mushrooms, and tofu.
4. Arrange the enoki mushrooms and Chinese chives around the rim in layers, then add the marinated pork (with all the marinade together) in the center. Make sure that the meat is in an even layer.
5. Cover and set donabe over medium heat. Cook for 13-15 minutes or until the pork is almost cooked through.
6. Uncover and stir. Cook for a few more minutes until everything is cooked through.
7. Garnish with scallion, sliced ginger, and cilantro. Serve into individual bowls and sprinkle some sansho pepper.
This dish is so hearty and satisfying, yet really healthy with virtually zero calorie (with high higher) shirataki noodles (I liked the American brand!) and many other vegetables. Great with freshly-steamed donabe rice.
Happy donabe life.