This dish is a real comfort food for me. And, it takes little effort to make.
But, for those who live outside of Japan, some of the ingredients might be difficult to find.
Jako
is a dried baby fish, which you can find at Japanese grocery stores here in LA.
Abura-age
(fried tofu pouch) can also be found at most of Asian grocery stores. But,
sansho pepper berries
are hard to find, unless they are a dry kind. In this recipe, you want fresh or blanched sansho pepper berries. I use sansho pepper berries in a jar, which I brought back from Japan.
For this recipe, I use a
mini-size classic-style donabe, "Hakeme"
. It's so handy and so convenient.
Quick simmered Jako, Abura-age & Sansho Berries
Ingredients:
(sauce)
1/3 cup (80 ml) sake
1/2 tablespoon raw brown sugar
1 tablespoon mirin
1 1/3 tablespoons soy saue
1/4 cup (60 ml) dashi stock
1.5 oz (45 g) dried baby fish ("jako")
1 rectangular-size fried tofu pouch ("abura-age"), blanched and cut into thin strips
1.5 tablespoons blanched sansho berries
freshly-cooked donabe rice
thinly-sliced shiso leaves
thinly-sliced scallion
Procedure:
1. In a small-size donabe, combine the ingredients for the sauce and bring to simmer over medium-heat.
2. Add the "jako" and "abura-age", and continue to simmer for 3-4 minutes.
3. Add the sansho berries and simmer until the sauce is reduced down to almost nothing.
4. Scoop
freshly-cooked donabe rice
in a serving bowl, top with the "jako" mixture, and garnish with generous amount of shiso and scallion.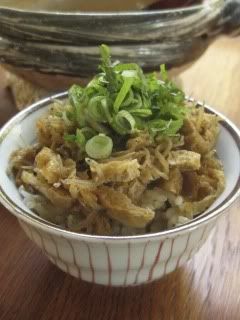 Rice, jako topping, and these herbs go perfectly well together. So comforting.
Happy donabe life.