(Day 5 - Mon, March 4)
Hew, Day 3 of the trade show was an even busier day. Show runs from 8.30 am til 5.30 pm, but it felt so short today. Directly from the venue, we took a cab to
Yusho
, which is a special yakitori and street food-inspired restaurant by
Chef Matthias Merges
, who is one of the most talented and respected chefs in the US. He was the executive chef at Michelin-star Charlie Trotter in Chicago for 14 years, before opening his own restaurant, Yusho in 2011. With the back ground of the most sophisticated American/ French cuisine, he does his version of casual "street food" yakitori and izakaya dishes at Yusho. We were so looking forward to this dinner, especially because Chef Matthias is a big fan of donabe cooking, and he makes special donabe dishes with some of our donabe at the restaurant!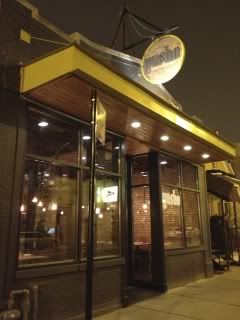 The restaurant had a real cool vibe. As soon as we waked in, we found our cute
double-lid donabe rice cooker, "Kamado-san"
, and
donabe smoker, "Ibushi Gin"
, in front of the open kitchen. Chef Matthias personally welcomed us and he did a special tasting course for us. At Yusho, those beautiful serving plates, bowls, and even chopstick rests are handmade by Chef Matthias's mother. They were really beautiful as well as functional!
Grilled hama hama oyster, crysanthemum sauce. Gobo, sesame, and Asian pear salad.
Shimeji mushrooms and foie gras, wrapped in grilled duck breast. Grilled lobster chawanmushi. Maitake mushrooms and egg, vinaigrette etc.
Maitake was so light and crunchy…excellent.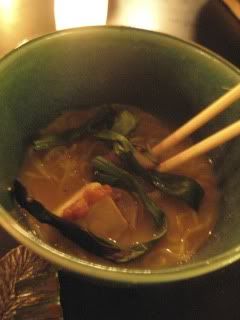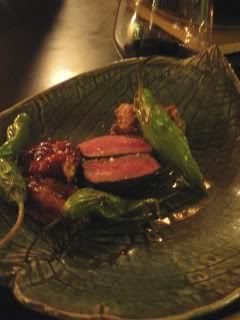 Donabe-smoked tofu, beef, and vegetables.
They were cooked and served in
donabe smoker, "Ibushi Gin"
. The dish was accompanied by donabe smoked ramen noodles! What a creative and delicious dish it was! It was followed by
Grilled beef and shishito peppers
.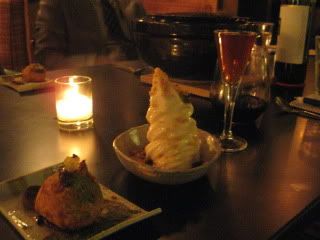 Blood sausage bun.
The final course was
dessert trio
, including sweet takoyaki.
Yusho also has a very fun list of cocktail, beer, sake and wine.
Founder's Breakfast Stoug
(Grand Rapids, MI).
2009 Domaine Santa Duc, Gigondas.
2009 DEI, Vino Nobile di Montepulciano. 2008 Andrew Will, Two Blondes Vineyards
(30% CS, 19% CF, 42% Merlot, 9% Malbec)
Fantastic evening with great food and hospitality. Chef Matthias's dishes were so creative and sophisticated, with the elegantly bold flavors. Just for this night, we all felt it was worth coming all the way to Chicago.