I use my homemade
shio-koji gochujang paste
in the marinade, so it gives really nice rich flavor to the dish. Also, my version of bulgogi is much less sweeter than conventional bulgogi. It's got all the natural flavors with a lot of vegetables. A real savory treat with the nice spicy kick.
With the
tagine-style donabe, "Fukkura-san"
, the dish can be prepared in easy steps with the wonderful result.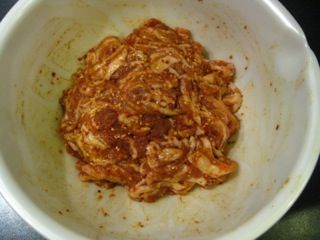 Marinade the pork belly slices in the special sauce.
Onion was sautéed and cabbage is added.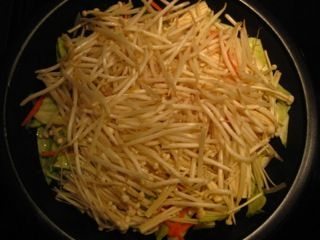 Enoki mushrooms, bean sprouts, and marinated pork are added in layers.
Cook for 8-10 minutes. Meanwhile, after 5 minutes or so, stir when the meat is more than half-way cooked.
Juicy pork bulgogi is ready!
Here's my recipe:
Ingredients: (4 servings)
(sauce marinade)
1 tablespoon gochujang (Korean fermented hot pepper paste)
2 tablespoons soy sauce
1 tablespoon Korean hot pepper powder (can be substituted with 1-2 teaspoons of chili flakes, although they are not quite same)
1/2 tablespoon sugar
1 tablespoon sake
1 tablespoon white sesame seeds
1 tablespoon grated ginger
1 clove garlic, grated
2 tablespoons grated apple
1 pound (450 g) thinly-sliced Kurobuta pork belly or pork butt, cut into bite-size pieces
1 tablespoon sesame oil
1/2 medium-size onion, thinly sliced
3-4 leaves cabbage, cut into 3/4" (2 cm) wide strips
5 oz (150 g) enoki mushrooms
6 oz (180 g) bean sprouts 1 scallion, thinly-sliced diagonally
4 lemon wedges
Procedure:
In a bowl, combine the ingredients for the sauce marinade and mix well. Add the pork and mix well by hand. Cover with a plastic and refrigerate for 15-30 minutes.
Heat the sesame oil in the skillet of "Fukkura-san" over medium-high heat for 3 minutes.
Turn down the heat to medium, and sauté the onion slices for 3-4 minutes or until they are slightly wilted. Add the cabbage, and stir for 30 seconds.
Add the enoki mushrooms and bean sprouts in layers. Place the marinated pork on top and spread over evenly.
Cover with lid and cook for 8-10 minutes or until the meat is cooked through. Meanwhile, check the doneness and stir 1-2 times after 5 minutes.
Turn off the heat and let it rest for 3-5 minutes.
Uncover and garnish with the sliced scallion. To serve, divide into individual bowls and squeeze the lemon.
Happy donabe life.