Tonjiru
(literally translates into "pork soup"), is a hearty miso soup with pork and different kinds of vegetables, and is one of the most beloved rustic dishes for Japanese people.
Although the flavor is hearty, it's still a light and healthy dish, as the broth is miso-based, a little amount of oil is used, and the amount of pork used in the dish is normally quite limited. Pork is more about the flavor for the broth, and we enjoy the balance of it with other ingredients.
I use Kurobuta pork in this dish for its rich flavor.
To make this dish, my
soup & stew donabe, "Miso-shiru Nabe"
, does the best work. It builds heat so slowly, so the root vegetables turn out really nice texture and flavor, while they retain original shapes (without falling apart).
Donabe Kurobuta Pork and vegetable stew ("Ton-jiru")
Ingredients:
8 oz (240 g) Kurobuta pork belly slices, cut into 1.5" (4 cm) wide pieces
4 tablespoons sake
1 tablespoon sesame oil
5 oz (150 g) daikon radish, cut into 1/8" (3 mm) thick slices, and further cut into quarters
2 oz (60 g) carrot, cut into 1/8" (3 mm) thick slices, and further cut into half
4 medium-large shiitake mushrooms, quartered
1 japanese green onion ("tokyo negi") or 3 scallions, green part only
2 ¾ cups (650 ml) dashi stock
4 oz (120 g) satsuma sweet potato ("satsuma imo"), cut into 1/4" (6 mm) thick slices, and further cut into quarters
7 oz (200 g) medium-firm tofu, cubed into bite-size
2.5 tablespoons red or yellow miso
1 tablespoon saikyo miso (sweet white miso) (can be substituted with ½ tablespoon red or yellow miso) some light-color soy sauce ("usukuchi shoyu")
some minced green onion or scallion
Procedure:
1. In a bowl, combine the pork and 2 tablespoon sake. Mix by hand and set aside for 15 minutes.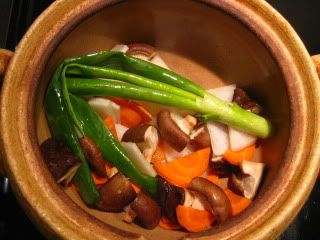 2. In
"Miso-shiru Nabe"
, heat the sesame oil over medium-high heat. Add the daikon, carrot, shiitake, and green onion. Stir for 2-3 minutes.
3. Add the pork and continue to stir until the pork is almost cooked through (3-4 minutes).
4. Add the remaining sake and continue to cook until the sake is reduced to less than half. (2-3 minutes)
5. Add the dashi stock and cover. Bring it to a boil, and reduce the heat to simmer. Skim as necessary.
6. Uncover and put a drop lid ("otoshi buta") or line the surface with a piece of parchment paper. Cover again and simmer over medium-low heat (or low) for 10 minutes.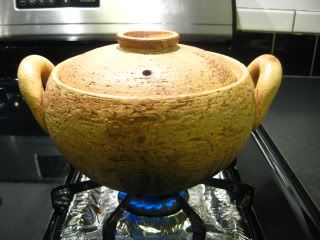 7. Add the satsuma sweet potato, cover with lid, and continue to simmer for additional 10 minutes, or until the potato is just cooked through.
8. Add the tofu. Put the miso in a bowl, and take a ladleful of the broth and add to the bowl. Whisk gently until the miso is dissolved.
9. Add the miso content to "Miso-shiru Nabe" and stir. Adjust the seasoning by adding a little amount of "usukuchi shoyu" if necessary.
10. Serve into individual bowls and garnish with minced green onion or scallion.
I think my "tonjiru" is very close to my mom's, and that's why I love it. I made it for her when I went back to Japan last month, and she loved it so much!
Happy donabe life.