With the spring cabbage I got, I decided to do a real simple steamed cabbage with Kurobuta pork.
This is my
donabe steamer, "Mushi Nabe"
. I have a white Mushi Nabe also, but I felt like using black tonight. All you need to do is just steam the ingredients in this donabe, and they will be really good!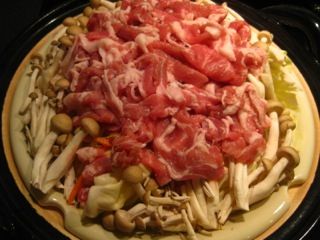 Once water was boiled in Mushi Nabe, I just piled I simply assembled all the ingredients on the steam grate. First, I made a bed of cabbage, then added bean sprouts, shimeji mushrooms, julienned carrot, and sake-marinated pork butt slices in layers.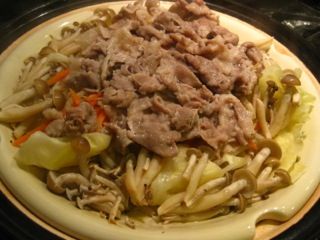 In about 8 minutes steaming over medium-high heat. The dish was ready.
We enjoyed it simple shabu shabu style, with homemade yuzu ponzu dipping sauce, grated daikon and shichimi togarashi. Donabe steaming rocks. The meat was so juicy, and the vegetables were so tender and sweet.
Here's how you can make it.
Steamed Pork and Vegetable Shabu Shabu
Ingredients:
(for 2 servings)
8 oz (240 g) Kurobuta pork butt, very thinly-sliced and cut into bite-size pieces
2 tablespoons sake
1/2 tablespoon
shio-koji
(optional)
5 oz (150 g) cabbage, cut into strips
5 oz (150 g) bean sprouts
2 oz (60 g) carrot, julienned
5 oz (150 g) shimeji mushrooms
some daikon sprouts for garnish
ponzu sauce for dipping
grated daikon, lightly squeezed
shichimi togarashi
Procedure:
In a shallow bowl, combine he pork slices, sake, and shio-koji (optional), and mix well by hand. Cover and refrigerate for 15-30 minutes.
Meanwhile, get "Mushi Nabe" ready according to the basic steaming instructions.
On the steam grate, make a bed of the cabbage. Add the bean sprouts, carrot, and shimeji mushrooms in layers. Add the pork and spread on the top layer.
Cover and steam over medium-high heat for 8-10 minutes or until the meat is cooked through.
Garnish with some daikon sprouts, and erve immediately at the table. Get a bowl of ponzu sauce for dipping for each person. Take a small amount of cooked ingredients and dip in the sauce to enjoy. Grated daikon and shichimi togarashi can be added to the sauce before dipping or put on the ingredients when dipping.
Happy donabe life.