I spent a very busy business week in Chicago and just made it back to LA, and now I can write about it.
(Day 1 - Thur, February 28)
From sunny LA to cold Chicago. I arrived in the afternoon and checked in at the hotel.
The hotel room was nicely spacious and very clean, with the view of Downtown skyline and the lake. Nagatani-en people came all the way from Iga, Japan, has already safely arrived in the morning, and I met them for dinner. Boy, Chicago is indeed freezing. The temperature was in the late 20's.
We took a cab to
Balena
, which is a real hot Italian place in town. The restaurant was really cool looking with great ambience. I started with Negroni no5, Two guys from Nagatani-en enjoyed microbrewery beers from Indiana and Michigan.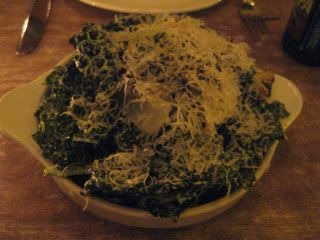 We ordered and shared a bunch of dishes.
Smoking Goose cured meat
…gin & juice, lamb, pork, juniper, orange zest, stagberry salame, elk, pork, blueberry, mead salame piccante, beef, pork, garlic, picante. These are made by the artisan salame producer in Indiana. They came with homemade Italian bread. Oh my, the salame were really nice. We also had
Tuscan kale "Caesar salad", tonnato, sardines, croutons
. Big portion, and really tasty.
Handmade pizza…
cauliflower, garlic crema, burrata, anchoiade
. Super delicious! It was a quite big pizza with such excellent flavor combination and perfect chewy dough. This pizza has become one of my most memorable pizzas I've ever had. Nagatani-san, himself had 4 large slices…he was in shock how delicious it was!
Tagliolini nero, crab, sea urchin, chili
. Rich and nice. Meat course was
Roasted porchetta, creamy polenta, parsley red onion salad
. The pork was so juicy and tender.
I was also really impressed by the wine list they had…wonderful collection of Italian wines from all different regions. To begin, instead of strictly Italian, I picked Slovenian (yet just border with Friuli, Italy) wine.
2008 Movia, Ribolla Giaia
was rich, complex, and excellent. We also had
2011 Tami, Nero d'Avola
, and
2001 Schiavenza, Barolo
. Yes, 3 of us finished all 3 bottles. The sommelier of the restaurant was really knowledgeable and such a gentleman. The service was superb. We had such a great kick-off dinner on the first night in Chicago. I got a nice energy to start real work tomorrow.