Donabe smoker can smoke so many different things.
I smoke soy sauce often and use it to drizzle over sashimi, etc.
Olive oil was poured in to a shallow bowl and put on the middle rack. Black pepper corns, Chinese Szechuan pepper corns, and Maldon sea salt are put in each small plate and set on the top rack. This time, I used classic sakura (Japanese cherry blossom) tree smoke chips.
Smoked Olive Oil, Black Pepper, Szechuan Pepper, and Sea Salt
Ingredients:
1/4 cup (60 ml) olive oil
2 tablespoons each black pepper corns, Szechuan pepper corns, and sea salt
Ohter things you need:
a piece of aluminum foil
a small handful (about 1/3 oz) of smoke chips
Procedure:
Set the olive oil in a shallow bowl which can fit the middle rack of Ibushi Gin. Set each peppers and salt in a small saucer.
Line a foil in the bottom of Ibushi Gin. Place the smoke chips on the foil and arrange them in a ring shape. Make sure the foil is tightly attached to the bottom.
Set Ibushi Gin (with no lid) over high heat. Wait until the chips starts smoking (about 7-8 minutes).
Set the mid-tier rack and carefully place the olive oil.
Set the top-tier rack and place the peppers and salt.
Cover with lid and pour water into the rim surrounding the lid. Continue to heat for 4-5 minutes.
Turn off the heat and let it rest (with the lid on) for 30 minutes.
Smoked Olive oil, black pepper, Szechuan Pepper, and Sea Salt... They came out so beautiful and aromatic.
Once the peppercorns were ground, they were even more aromatic and smokier.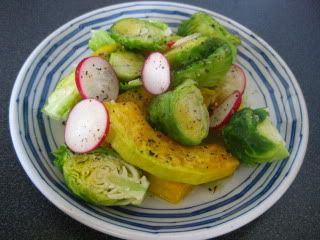 With the freshly donabe-smoked seasonings, I quickly prepared a simple salad. I used
donabe steam-roaster, "Tochinsai"
, to cook sliced kabocha and brussels sprouts (about 4 minutes in microwave), then sprinkled both kinds of ground smoked peppers, smoked sea salt, and smoked olive oil. What a great smokey-aromatic dish these simple ingredients made! Simply great.
Happy donabe life.