I made super simple steam-fry chicken with vegetables.
This dish is extremely easy to make but never gets old in my home.
I use
tagine-style donabe, "Fukkura-san"
, for this dish. With this unique donabe, I can sear the chicken first, then once with the cover on, the insulated body and FIR (Far-Infrared Radiation) distribute the heat evenly and makes really juicy chicken fast. I use
shio-koji
to marinade the chicken, but if you don't have it, you can simply substitute it with sea salt.
Steam-fry Chicken, Asparagus, and Tomato
Ingredients:
(for 3-4 servings as part of multi-course meal)
1 pound boneless chicken thighs (preferably skin on), cut into large bite-size pieces
2 tablespoons shio-koji (or you can substitute with 1.5 teaspoons sea salt)
1 tablespoon olive oil
2 cloves garlic, thinly sliced
2 tablespoons sake
8 oz (240 g) medium-thick asparagus, trimmed and cut each into 3 pieces at an angle
2 tomatoes, cut into large cubes
some ground black pepper
3-4 lemon wedges
some shichimi pepper
Procedure:
In a bowl, mix together the chicken with shio-koji by hand. Cover tightly and refrigerate for 2-3 hours to overnight. (If you simply don't have time, just 30 minutes is still okay.)
Heat the olive oil in the skillet of "Fukkura-san" over medium-high heat for 3 minutes.
Add the chicken, skin-side down, and sauté until golden (about 3-4 minutes).
Turn over the chicken pieces, add the garlic, and continue to sauté until the garlic is aromatic (1-2 minutes).
Pour the sake and cover with lid. Turn down to medium-heat. Cook until the chicken is almost cooked through (about 2-3 minutes).
Add the asparagus and tomatoes. Cover again and continue to cook for 3 minutes.
Turn off the heat and let it rest (with the lid on) for 3 minutes.
Uncover and season with some ground black pepper.
Serve into individual bowls. Squeeze lemon and sprinkle some shichimi pepper to enjoy.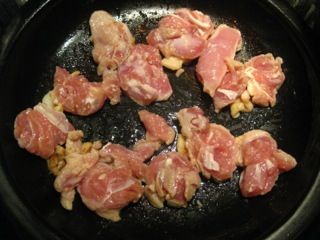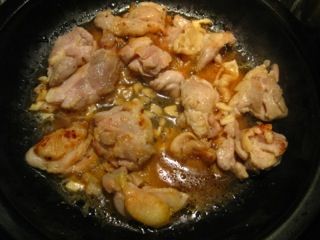 Shio-koji marinated chicken was simply steam-fried with a little amount of sake.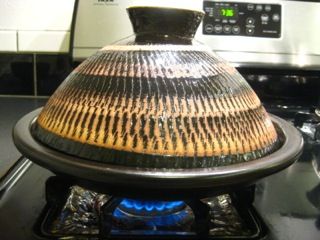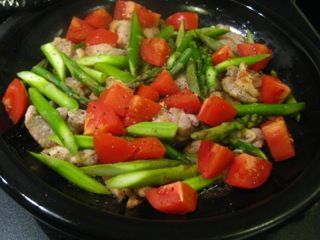 Then, vegetables are added to finish. That's it.
Happy donabe life.