(Day 9)
By a short drive from Produttori, we got to
Rivella Serafino in Montestefano
(Barbaresco), to meet
Teobaldo ("Teo") Rivella
and his wife
Mery
.
Rivella is a 200-year-old family winemaker. They started estate-bottling in 1976. They make just around 9,000 bottles/ year. Only Dolcetto and Barbaresco are made. Rivella is an organic producer (not certified) and they make very natural-style un-manipulated wines with only the small usage of sulfite. We tasted the following wines:
2007 Barbaresco, Montestefano
…30-month aging in oak.
2006 Barbaresco, Montestefano
2010 Dolcetto d'Alba
…from 40-year-old vines.
2008 Barbaresco, Montestefano
2004 Barbaresco, Montestefano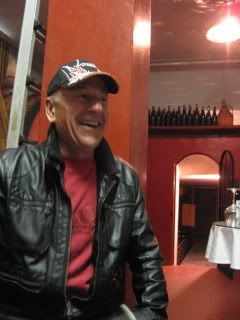 It was such an eye-opening experience to taste different vintages of his Barbaresco. They were so natural, terroir-oriented, and serious wines with great aging potential. Teo was so sweet and charming. He loved the hat, which Traci gave his as a gift from LA. So cute!