(Day 7)
Sunday, October 30, 2011. Our two-night-stay in Paris was ending.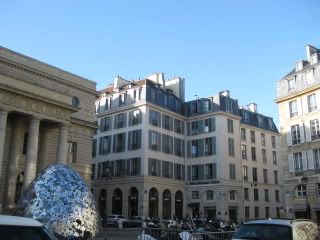 We left our cute hotel in St-German in the morning to head to Orly/ Paris airport.
We first flew to Linate/ Milano airport in Italy, then met up with Traci at the airport, and rented 2 cars to drive to Barolo, Piemonte (Our group grew to 6 persons in Italy). It took us less than 2 hours to get to our hotel in Barolo. It was my second time to come to this great wine region of Italy (last time was 2005!)…I was so happy to be back.
It was already in the evening, so after we checked in and unpacked, we were ready for dinner.
For the first night dinner in Piemonte, we drove to
Trattoria La Coccinella
(Via Provinciale, 5, Serravalle Langhe), which is a rustic-style house in a small town near Barolo.
We started with a simple local wine,
2010 Herzu, Langhe Bianco, "Da Uve Rielsling"
…from Alta Langa vineyard. This is kind of a rare wine, because grapes are normally not grown in the area.
Antipasti…classic stuffed and baked onion, marinated trout & fresh shrimp with black truffles, veal terrine, and caramelized pumpkin cake with fonduta.
It's in the beginning of the white truffle season in Piemonte now! So, we also ordered white truffule pasta. Super-aromatic white truffle was shaved generously over the homemade pasta. Mmm…so wonderful.
Other pasta dishes…green lasagna with porcini mushrooms and sweetbread, tajarin tagliati (homemade super-thin tagliati) with mushrooms, and agnolotti (tiny ravioli, stuffed with pork…local specialty).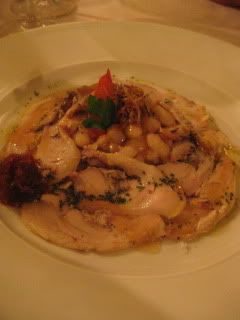 Main courses…My porchetta, etc. Porchetta was so excellent, and it tasted almost like cha-shiu, to me.
Fromaggio Raschera, Blue di flabosa, Robiola, and Pecorino. Desserts were nice, too.
We enjoyed local reds…their wine list had many nice names with good vintages, although there were not many old bottles.
2010 Chionetti, Dolcetto di Dogliani, "San Luigi"
2007 Gisuseppe Rinaldi, Barolo
2004 Cavalotto, Barolo, "Bricco Boschis Vigna San Giusppe
Everything was so authentic Piemonte-style. It was a wonderful first-night dinner in Piemonte.