(Dan 9)
Our Barbaresco day was going well. For lunch, we went to
Casa Nicolini
(Strada Nicolini Basso, 34 Franzione Tre Stelle, Barbaresco). We were originally going to a different restaurant, but because it was All Saints Day (November 1), it was closed just as many other restaurants and shops in the area.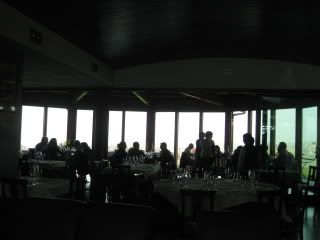 This restaurant had the breath-taking view of vineyards in Barbaresco.
Our time was kind of pushing, so we had a quick lunch. For wine, we had
2010 Azienda Agricola VIGIN, Dolcetto d'Alba
.
I had
Carpaccio di rolata di con valeriana e aceto balsamico (rolled rabbit carpaccio with lettuce & balsamico)
…the rabbit was lean and good. Then, the pasta course was, again,
Agnolotti burro e salvia (tiny ravioli with butter and sage sauce)
.
I was wondering, when I would be able to eat vegetables.