(Day 10)
It was already Day 10 of our trip. We started in Bourgogne, then went to Paris, and to Piemonte. Out time had been so busy every day, with no down time. Plus, every single night was a big 3-hour (or longer) dinner all past days.
So, we were feeling very tired and just felt like a light meal. 3 of us decided to cancel our original (big) dinner reservations and walked to a local restaurant from our hotel for a "light meal".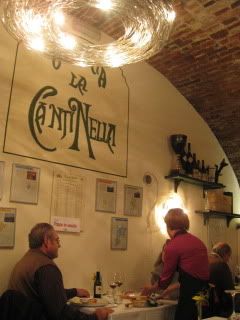 We went to
Osteria la Cantina
(Via Aoqua Gelata, 4/A – Barolo), which is a small local bistro.
Even when we were tired, we want a nice wine. We ordered
2006 Marcarini, Barolo, "Brunate"
.
Still no luck with vegetable salad. Haha. I asked if they had any, and our waiter said, "no salad". So, I started with
Crema di zucca gialla
(pumpkin soup), which was actually light and nice (I'm so glad that this wasn't a creamy version with heavy cream, but it was a brothy version with just vegetable stock).
As a main course, I had
Pappardelle, 40 tuorli, con sugo di cinghiale
(homemade pappardelle with stewed meat). It was so homey and tasty. Lynne's Brasato al Barolo was nice, too.
I had a nice very first "low-key" dinner since I started this trip. But, still no vegetables…please, give me vegetables.