I had a casual supper in the hotel.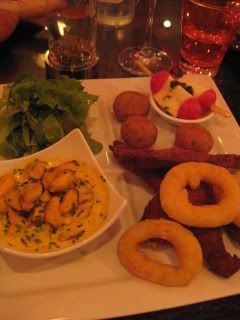 Appetizer plate...Mussels in the saffron cream sauce was pretty good.
As anyone could imagine, Cannes is not the best town to find good pasta dishes. No matter where you dine, if you order a pasta dish, you would most likely be served an overcooked saucy kind. Despite that, I somehow feel cravings for pasta while I'm here sometimes and end up ordering it. Then, I always get disappointed as I expected.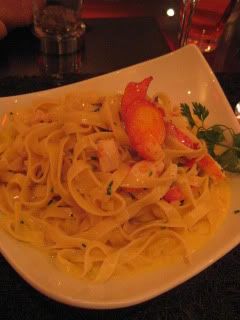 However, tonight was different. I had Lobster Tagliatelle and it was very nice, even though the pasta was not homemade. It was cooked
al dente
! Wow...
al dente
pasta in Cannes?! The sauce was elegantly "French" rich but somehoe it reminded me of my mom's cream sauce. I basically finished the whole dish of....I bet 5 millions of calories. Lobster meat was fresh and sweet.
I like a simple dish like this, even though I knew it was going to be heavy on my stomach.