The connection flight from Zurich to Nice was on time. I arrived at Nice Airport in the evening and there was my driver, Jean-Claude, waiting for me outside just like the last times. It was very nice to see his smile again. The weather was so nice and warm in Nice.
The car went straight to my hotel in Cannes. When I checked in and went to my room, there was a small gift and a birhday card from the hotel. That's nice of them.
I was so tired, so I decided to just have dinner at the hotel restaurant. My colleagues are arriving in Cannes tomorrow, so I was on my own tonight.
I ordered myself a flute of Champagne and mumbled "Happy Birthday" to myself. Before the appetizer, a waiter brought a plate of toasted baguette and tapenade. That's a massive amount of tapenade for just one person!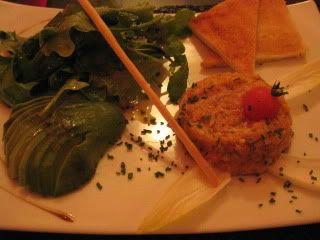 Salmon tartare was very nice. I always enjoy eating fish in Canns.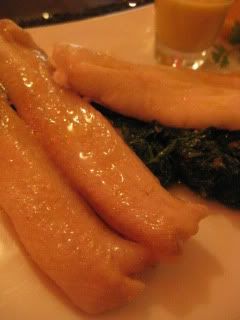 Main course was steamed sole with stewed spinach. The fish was excellent! It was so delicately soft and had the nice "Mediterranean" ocean flavor, which I taste from good in this town. I wish I had a bowl of rice to enjoy the fish with.
Warm choclate cake with ice cream inside. Very rich.
I was completely stuffed and quite content.