My colleagues arrived by this evening, so we got together for dinner tonight. We had a reservation at
Le Riad
, which is a Moroccan restaurant near the hotel.
Their wine list was very limited, but we had a toast with Pierre Gimonet, Champagne Brut, and we also had a bottle of Provence blanc.
It's a cute restaurant with a nice exotic ambience. And the food was really delicious!
We had some starters of Assorted Bricks and stewed vegetables. "Bricks" are just like fried egg rolls. There were three different kinds...each was stuffed with tuna, beef, and cheese. The stewed vegetables were eggplant, zucchini, etc. Both were very nice.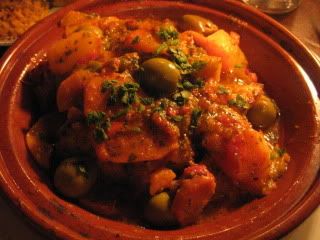 My main course was Seabass and Vegetables Tagine with the side of rice. Tagine was exellent!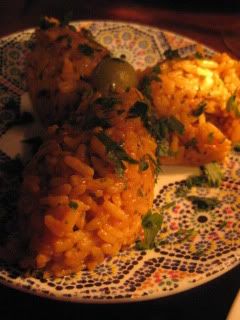 The sauce had the great flavors with the preserved lemon and vegetables.
Since I really enjoyed the dinner here and it's very close to my hotel, I might want to come back here again this week.