I made another Okara (soy pulp) dish. Hamburg!
I used both ground Kurobuta pork and okara to make the patties.
Okara doesn't only give the delicate soy flavor to the dish, but it also makes the texture so moist and soft.
Okara and Pork Hamburg

Procedure
1. In a large bowl, combine 1 small onion, 1 clove of garlic (both minced), 1/2 lb ground pork, 1/2 to 3/4 lb okara, 2-3 tablespoons of milk, 1 egg, and season with salt and pepper. Knead until smooth. Tightly cover with the plastic and let it sit in the fridge for 30 minutes.
2. Take the bowl out of the fridge and form into patties.
3. Heat the olive oil in a pan. Cook one side until browned over medium-high heat. Turn the patties over. Pour a good splash of sake. Cover and cook until the patties are cooked through over medium-heat.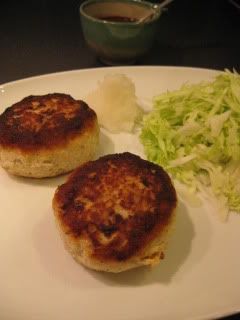 I served the hamburg with grated daikon, shredded cabbage (best accompaniments!), and this special "Emi's Sauce", from Okinawa. The sauce is a gift from a friend of mine. I'm so hooked to this sauce. It's got the nice mildly sweet and tangy flavor with the grated apple, onion, ginger, garlic, turmeric, soy sauce, shikwasa (Okinawa's local citrus), etc. etc.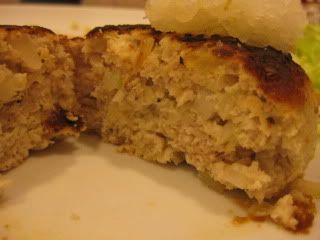 The inside was so fluffy and so nice. It was a great dinner.
Gochisosama deshita.