L'Atelier Jean-Luc Pele is my another "must" spot in Cannes.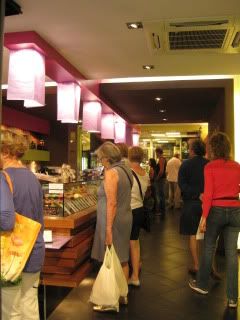 Their macarons are so FANTASTIQUE! I picked up different kinds of macarons to snack. Among them were foie gras macarons.
Yes, they make foie gras macarons! I picked up two kinds. One was with the sauteed brunoise apples, and the other was with the sea salt caramel. They were both exquiste. I loved the flavor compositions of savory and mild sweetness. And, each was less than 2 euros, so I thought it was a good deal, too. If I had them as amuse-bouche at a restaurant, I would be so happy.
After the foie gras macaron break, I kept walking and stopped by at La Vinotheque, which is my another regular stop in Cannes. They carry some hard-to-find Champagnes there. And today, yes, I found Jacques Selosse again! Soooo...I picked up 3 different bottles of Jacques Selosse, and also Jerome Prevost Champagnes!! I was so excited that I got to buy them again!!
When I was done with all the shopping, it was already past noon. I was in a mood for trying something adventurous, instead of something typical here. I found this popular restaurant which serves "world food", so I gave it a try.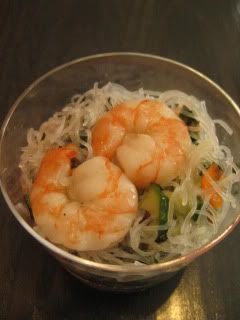 It was a big mistake!!! The "Tokyo" vermicelli salad was okay. But, the wok-fry shrimp with rice was just horrible. When I saw the dish brought to the table, I was in shock. I was like, what in the world is it?! What kind of presentation is it? Then, the flavor was even worse. It was a soggy (almost soupy) greasy rice with chunks of onions and carrots. Shrimp tasted so bad. I had a few bites and that was it. I was only hoping I wouldn't get sick from the dish!! Waaaah, I should've just eaten at a local seafood place or even the hotel restaurant. My mistake.