I got a bag of freshly squeezed okara from Meiji Tofu. Okara, or soy pulp is a by-product of soy milk/ tofu. It's a leftover after making the soy milk.
Okara is a great health food, as it's high in protein, fiber, and other vitamins. For vegetarian/ vegan people, it's also a great (nutritious) substitute for meat, too. I like okara just because it tastes so good as well as it's versatile as a ingredient!
I made a cous-cous style okara and bitter melon salad.
Okara and Bitter Melon Salad.

Procedure
1. Saute the sliced bitter melon(from 1 medium-size bitter melon), king oyster mushroom, carrot, with 2-3 tablespoons of olive oil until the ingredients are cooked through. Add sliced almond and goji berries. Continue to saute for a couple of minutes. Transfer to a bowl.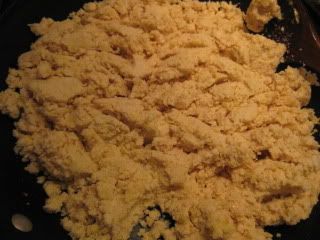 2. Saute about 2 cups of okara until it's crumbly and less moist. Add 2-3 teaspoons of cumin seeds, 1 tablespoon of garam masala. (For non vegetarian version, you can also add 1/2 tablespoon of chicken powder for more flavor.) Continue to saute until fragrant. Transfer to the same bowl.
3. Squeeze out juice from 1/2 lemon over the ingredients. Season with salt and pepper.
That's it! With all these different ingredients mixed together, the dish is super-nutrient, and it's really tasty.