Autumn is here.
It's time for making Kuri Gohan (Chestnuts Rice) with donabe! I have a lot of childhood memories with Kuri Gohan, since it was one of my favorite dishes my mom made when I was a child. I remember my mom made chestnuts rice almost every week during the season for the family, despite the labor-intensive process of peelingi the shells.
This is a very simple recipe and is always good.
First, boil the chestnuts for 5 minutes, so that the shells become softer to peel. Drain. Peel the shell (and the inner skin) with a pairing knife. Start from the bottom part. If the peeled one is very big, cut it into half.
12-15 chestnuts are enough for 2.5 rice-cups (450 ml) of rice. But since I love the chestnuts so much, I did 20 of them today.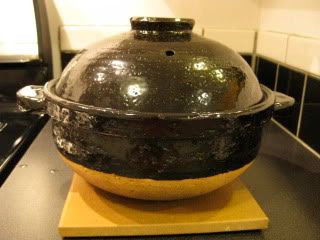 In the donabe pot (double-lid donabe rice cooker, "Kamado-san"), combine the 2 rice-cups (360 ml) of short grain rice, 1/2 rice-cup (90 ml) of sweet rice (both rinsed), 440 ml water, 1 tablespoon mirin, 1 tablespoon light soy sauce, 2 tablespoon sake, and 1/2 teaspoon of salt. top the rice with a 2" x 2" piece of dashi konbu (dry kelp) and chestnuts. Close both lids and let it sit for 20 minutes. Then, cook over medium-high heat for 15 minutes. Remove the donabe from the heat and let it rest for 20 minutes.
The rice is ready! Remove the kombu (you can snack on it) and fluff the rice with a paddle.
I enjoyed this seasonal treat so much. Thanks to the donabe rice cooker, the chestnuts became really "nutty" sweet and had the wonderful texture. Rice was nicely slightly sticky with a little addition of the sweet rice.
For more information about the donabe rice cooker, "Kamado-san", and recipes, please check out
toiro's website
.