With one extra step of deep-frying the potatoes and chicken meat balls before adding them to the donabe (tagine-style donabe, "Fukkura-san"), the flavor of this dish become so extraordinary.
*Don't use the donabe for deep-frying.
This big-flavor dish is also very fun to make. I posted the recipe on
toiro
's website
.
Once the lid of "Fukkura-san" is opened, the dish was prettied up with the garnish (chopped scallions and mitsuba). The dish is well-balanced with different kinds of vegetables.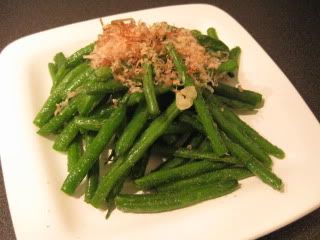 The side dish I made was deep-fried green beans and garlic.