The weather has been so gorgeous past days. Our Day 4 was another great day with beach activities.
Before heading to the beach, we had a brunch at
Da Kitchen Express (2439 S. Kihei Road, Kihei)
. Da Kitchen is one of the most popular plate lunch spots in Maui.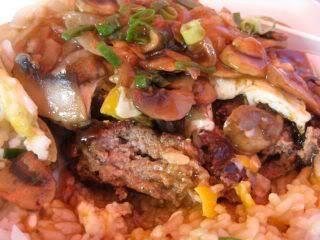 I had Loco Moco. I knew it was going to be huge...and...it was really HUGE! I mean, this could easily feed two adults. I'm not a big fan of loco moco in general (especially because of the thick gravy sauce), but I actually really enjoyed their version and almost finished everything! The hamburger had the nice texture and the sauce had the nice taste. The fried eggs were cooked perfectly, so the egg yolks blended with them beautifully when I broke them. Mmm...it was a killer heart-attack meal...not to mention the dish was as salty as any other local foods.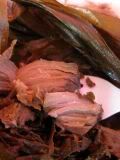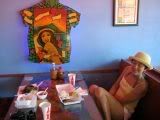 Jason had another killer dish. It was Kalua pig, lau lau (steamed pork in banana leaves), chicken noodle, lomi lomi salmon, and poi. He loved it.
We thought we'd never get hungry again, but of course, we were hungry again before dinner.
Since we really love staying in this hotel (Wailea Beach Marriott Resort), we went to the hotel's restaurant,
Mala Wailea
, to give a try.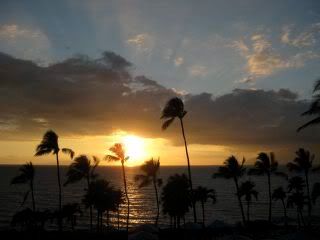 Despite the cheesy display of celebrity photos who visited the restaurant at the entrance, Mala Wailea is a rather low-key cute restaurant once you walk inside. We got a table in the balcony and watched the beautiful sunset over cocktail first.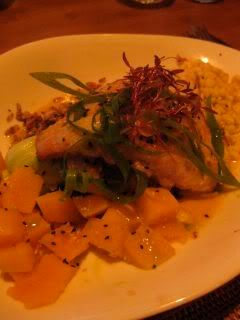 Local Ahi Sashimi Bruschetta was really great. For main course, I had another locally-caught Oppakapaka (miso marinated). The fish was really fresh and cooked perfectly. Jason had the local Moi. The whole fish was deep-fried and served with Thai-style curry sauce.
The service was so nice and we totally enjoyed the island hospitality. I thought the restaurant was unpretentious and humble.