Cooking with different kinds of donabe is always so much fun. I can find so many different recipes for delicious dishes.
This time, I did smoking with the tagine-style donabe, "Fukkura-san". I never thought making smoked dishes would be so easy and fun.
On one night, I got cod filets and chicken drummettes. These were simply seasoned with salt and pepper. Then, it was basically smoked over a handful of the smoke chips (I used hickory) and a tablespoon of coarse brown sugar.
With this donabe (tagine-style donabe, "Fukkura-san"), you don't have to worry about the big smoke coming out to fill the kitchen. You can only smell the nice aroma from the donabe. Left in the picture is "Fukkura-san". Right is the donabe rice cooker, "Kamado-san", in which I was cooking rice at the same time.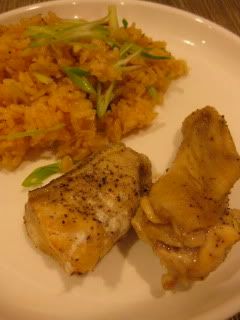 After 45 minutes, they were ready. Both the chicken and the fish were so juicy and wonderfully smokey. I served them with the cumin lime rice, which I made with the double-lid donabe rice cooker, "Kamado-san".
The following day, I smoked more chicken drummettes with some boiled eggs.
I've posted the complete recipe on
toiro's website
. Again, it's so easy!
I'm becoming so addicted to "smoking" now. I want to try with many different ingredients. It's my new hobby!