I have intruduced my pork sukiyaki recipe before in this blog, but this time, I made it with my Tagine-style Donabe, "Fukkura-san", instead of a regular skillet.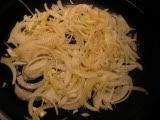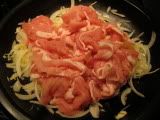 My recipe is quite simple. First, I saute the onion, then add the meat. The full recipe is posted on
toiro's website
.
With this donabe, my regular sukiyaki tasted even (so much) better. The thin-sliced pork turned really succulent and the onions were so sweet. There were layers of wonderful flavors.