I'm sorry that my donabe website,
toiro
, hasn't been updated with the new products yet. I just returned from my 6-day trip to Maui, where I didn't really have a chance to work with my laptop (it was my vacation!).
Wow, we had an incredible time in Maui in this trip. I've been to Maui several times (my first time was 20 years ago!), and Maui always seem to be the same lovely "inaka" (countryside) for me. It's always so relaxing and filled with beautiful nature.
As soon as we picked up the rent-a-car at Kahului Airport, we headed to
Sam Sato's (1750 Wili Pa Loop, Wailuku)
for lunch. This is a very popular local breakfast/ lunch spot, not far from the airport.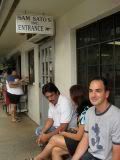 It was before noon, but there was already a big crowd waiting outside for tables.
I had their famous
Dry Saimin (small) with Yakitori!
The way you enjoy it is you drizzle a little amount of the soup (which comes with the dish) as you eat. It's so flavorful and delicious. Their manju is also famous, too. I had the
Azuki Bean Manju
.
Everytime I come to Hawaii, I keep reminded how salty everything is over there. Boy, I was so thirsty after the lunch.
Since our hotel was in Wailea, I planned all our dinners in Wailea/ Kihei areas in this trip. The first night was a sushi dinner at
Sushi Paradise (1215 S. Kihei Rd. #120).
We got the seats at the sushi bar and ordered so many kinds of nigiri. The cuts of fish are quite thick here, so I could really savor every kind well in my mouth.