Yes, Hamburg! (We pronounce it "Hanbaagu".) It's a Japanese-style hamburger steak and is one of the most popular localized "Western" dishes in the country. While the most classic style of hamburg is served with the sauce, "Nikomi Hamburg" (Quick Braised Hamburger Steak) is like a quick stew of the hamburger meat.
I made it with my Tagine-style donabe, "Fukkura-san". This tagine-style donabe is such a perfect tool for this dish. I can sear the meat, make the stew, and with the cute dome-shape lid, it steams the meat to finish and the result is such a fluffy meat! I posted the recipe on
toiro's website
.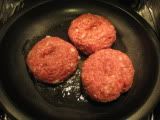 Once you shape the meat, it takes less than 15 minutes to finish! First I seared the meat and transferred to a plate. Then, I make a sauce in the same skillet, bring the meat back in, and finish with the lid.
My stomach was so happy!